In Kiev, established an experimental traffic light with illuminated pillar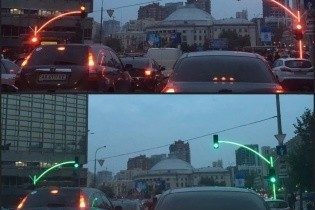 In Kiev, established an experimental traffic light with illuminated pillar
© Facebook/Anna Kuznetsova
It is located in the heart of the circus.
In the city center has installed a new experimental traffic light, whose signals are seen at a great distance. Vertical support of such traffic lights are fully illuminated.
According to the Deputy mayor of Kiev Ilya Sagaidak, these pointers will reduce the number of violations on the roads, because they can be seen from a greater distance.
See also: Budget-2017: to repair roads has more than 14 billion UAH
The new traffic light is located in the heart of the capital circus.
Recall, October 1 to may 1 on the country roads of Ukraine during day time of day all vehicles have to move with switched headlights. The purpose of this requirement is the reduction in the risk of traffic accidents on rural roads in connection with the reduction of daylight and weather conditions.
Comments
comments