In the US, Clinton and trump were the heroes of sarcastic installations for Halloween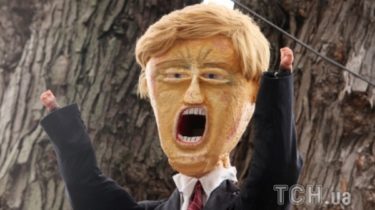 In the US, Clinton and trump were the heroes of sarcastic installations for Halloween
Curiosities
October 5, 10:12
1 of 9

© Reuters

1 of 9

© Reuters

1 of 9

© Reuters

1 of 9

© Reuters

1 of 9

© Reuters

1 of 9

© Reuters

1 of 9

© Reuters

1 of 9

© Reuters

1 of 9

© Reuters
© Reuters

© Reuters

© Reuters

© Reuters

© Reuters

© Reuters

© Reuters

© Reuters

© Reuters
The author wanted to make a political statement.
In Connecticut, in the United States, made an installation for the holiday of Halloween with the presidential candidates of the country. Here the model of trump yelling at the Mexican border, and Styrofoam Clinton saddled the donkey.
A peculiar exhibition has become a landmark and stopped traffic in the city, according to Reuters. The author was Professor of history Matt Worser. So he wanted to make a political statement.
"It's crazy presidential election where it seems, the policy is out of control. I'm making a statement about both parties, Republican and Democratic, but the greatest concern is the Donald trump in the role of President," said Worker.
See also: Clinton has released an anti-advertising of trump because of his sexist remarks
The author constructed a 2.4-metre-long wall, which serves as the border with Mexico to keep out migrants. On top of this wall sits a model of the trump with armed guards.
In turn, the posters kartonowych migrants inscription: "We were all immigrants" or "We are not criminals."
According to Worser, he worked on the installation for several months.
Recall that in the Network page of the publication of Sky News on Youtube appeared videopedia, where people who look like trump and Clinton, in the Boxing ring staged a rap battle. The video appeared on the eve of the first televised debates between the candidates for U.S. President.
Comments
comments