Dnipro took several boards with the wounded in the ATO area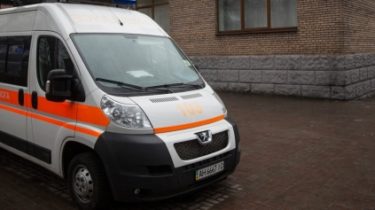 Dnipro took several boards with the wounded in the ATO area
© Getty Images
Doctors save lives, soldiers and hope that they will live.
Hospital of the Dnieper took ten seriously wounded in the East of Ukraine fighters. They were taken with front aviation, says the story TSN.19:30.
Helicopters from the zone ATO were several. At the airport was already waiting ambulance. Most of the military were injured under Mariupol during massive shelling near Shyrokyne. "The tank worked and mortar wing. Much of a truce it's not like," – said one of the victims. "I'm the truce in 2014, see" – ironically added another.
From the zone ATO in hospitals constantly delivering wounded
TSN. 19:30
Yesterday, 20:08
Add to favourites
Helicopters and night evacuated from the ATO zone military in a serious condition. According to doctors, their life is not in danger. At the same time, the wounded soldiers say that about the truce on the front lines is not the question.
The doctors are encouraging that threats the lives of these soldiers there. Three with mine-explosive wounds can move independently. Others were carried on stretchers. One of the men is a complex wound of the fingers. His brush doctors in the river actually have to gather again.
The greatest excitement is the state marine Alexander, which is a difficult wound to the head. Military night has already operated in Mariupol, and as soon as allowed to transport, sent to the Dnieper. "The guy who's in serious condition, smiles and says: I'm the most beautiful, I'll be fine. That is, there is a very positive attitude," – said the coordinator of the evacuation of the wounded Tatiana Guba.
See also: In the area of ATO wounded 10 soldiers, the number of hospitalizations is growing – TSN sources
Alexander was taken to the intensive care unit of the regional hospital Mechnikov. Doctors say that splinter in the brain can give very serious complications. "While the lower limbs are not moving. We hope to do everything possible to restore mobility," – said the chief doctor Sergei Ryzhenko.
A month ago doctors from the Dnieper told the terrible truth about the injuriessuffered by Ukrainian soldiers in the ATO zone. Fighters are brought in unconscious, with shrapnel in his brain, fractured ridges and other serious injuries.
The TSN correspondent Olga Pavlovskaya
Comments
comments