The Ukrainian delegation to PACE calling for the extension of sanctions against Russia and to condemn the "elections" in Crimea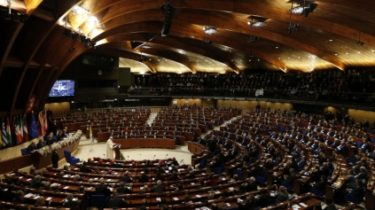 The Ukrainian delegation to PACE calling for the extension of sanctions against Russia and to condemn the "elections" in Crimea
© Archive
Even the name of one of the resolutions was replaced by "the conflict in Ukraine" to "Russia's aggression in Ukraine."
The Ukrainian delegation to PACE has made all nauwalabila mentions in two resolutions on Ukraine, namely: "the extension of sanctions against Russia until full restoration of Ukraine's sovereignty, condemnation of the illegal "elections" in Crimea, the ban of the Mejlis, the rejection of the appeal to accept the Russian Federation in the Assembly, in spite of everything, the release of prisoners" and the like.
About this Facebook said the head of the Ukrainian delegation to PACE Vladimir Aryev.
"Even in the title replaced "conflict in Ukraine" to "Russia's aggression in Ukraine", – he said. According to Aryev, "without exception, all speakers, even favorable to Russia, in fact, admitted in their statements that trouble Ukraine has brought Russia".
He added that the Ukrainian team will continue to do everything possible to keep the PACE to fight with the influence of the Russian lobby.
See also: liovochkina PACE proposes to adopt its resolution about the lack of investigation of crimes on the Maidan
Today is also the in PACE was made by a former political prisoner Gennady Afanasyev and former prisoner of the so-called "DNR" Vladimir Pearls. They talked about the torture against them were used by the Russians and controlled by the militants. PACE also mentioned the detention of Roman Sushchenko Moscow. It is expected that by the end of the day will be approved for two of the PACE resolution on Ukraine. Diplomats hope that the organization will confirm its position in relation to the Crimea and Donbass, and also will urge Russia to release all political prisoners.
The Ukrainian question is one of the main PACE for the second day in a row. On Tuesday, French President Francois Hollande said , however, that you first need to hold local elections, and then Ukraine can do the border with Russia. In the Ukrainian delegation in different ways took this statement. His speech was described as an example of how long and tedious to talk about anything.
In General, relations with Russia became almost the most important issue of the autumn session of the PACE. Russia remember the context of human rights violations and the conflict in Eastern Ukraine and the bombing of the Syrian city of Aleppo, which is now on the verge of total destruction. Simultaneously PACE said the lack of the Russian delegation is not conducive to dialogue and there are more and more calls to return to the Russian parliamentarians into the hall.
Today in the PACE once again discussing the Ukrainian question
TSN. 16:45
Yesterday, 17:11
Add to favourites
The Ukrainian issue was discussed today in the parliamentary Assembly of the Council of Europe. In the debate on political consequences of the conflict in Ukraine calls for Russia to withdraw its troops from the Donbass. Of Ukraine in PACE recalled the day before. French President Francois Hollande during a speech he threatened the Ukrainians a frozen conflict, if the occupied Donbass elections will be held.
Comments
comments