Accountant "Ukrspirt" was detained for the theft of the country's budget by hundreds of millions
Accountant "Ukrspirt" was detained for the theft of the country's budget by hundreds of millions
© UNIAN
The detainee transferred millions to accounts of fictitious companies.
Thanks to the synergy of GFS and the GPU was detained the chief accountant of state enterprise "Ukrspirt" Roman Voloshchuk on suspicion of theft of 750 million UAH of public funds.
About this on his page in Facebook said the Prosecutor General Yuri Lutsenko. He said that the accomplice Voloshchuk may be the head of the company.
Read also: In Kiev Sbushniki saved the businessman's wife, for which the kidnappers demanded $ 150 thousand
"As a result of the SFS and the GPU today detained the chief accountant of SE "Ukrspirt" Voloshchuk R. J. (2012-2014), a suspect in the theft of public money.
Voloshchuk by prior agreement with the head of "Ukrspirt" HART transferred the funds in the amount of 750 mln. to the accounts of fictitious enterprises that did not export products.
In addition, the detainee is suspected of tax evasion by groundless formation of the tax credit from the "Atlas group", which has fictitiousness signs in the amount of 175 million", – wrote in the social network the attorney General.
In addition, in response to the user's question, if the case comes to court, Lutsenko said that this year the GPU has transferred in court 614 cases against corrupt officials.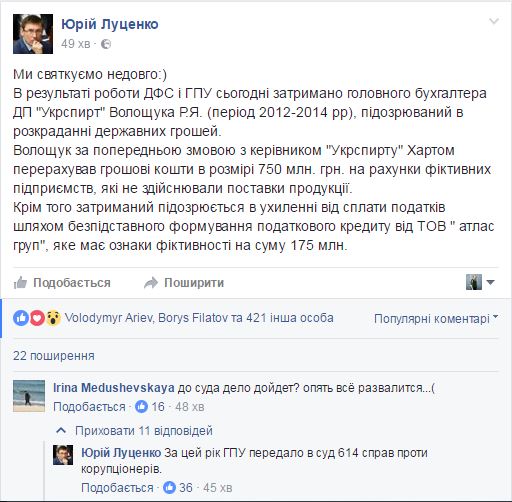 Yuriy Lutsenko /Facebook
We will remind that earlier security Service specialists of Ukraine exposed the fact of embezzlement of state funds allocated for repair of roads in the town of Smela of Cherkasy region. In October 2015 Smila city Council entered into an agreement with one of the Cherkassk commercial structures at replacement of the pavement of several streets. The total project cost of the repairs amounted to more than five million hryvnias. Funding was provided by the target subvention from the state budget and the funds were fully transferred to businessmen.
Comments
comments