Sanctions of Ukraine against Russia has ceased to operate because of corruption.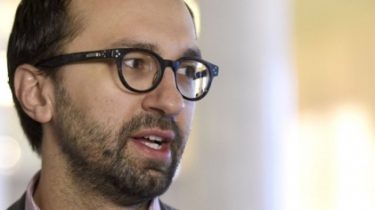 Sanctions of Ukraine against Russia has ceased to operate because of corruption.
© UNIAN
According to him, the sanctions have ceased to operate a month ago.
The people's Deputy from BPP Sergey Leshchenko said about corruption in the formation of the list of sanctions of Ukraine against Russian citizens and companies.
About this сообщает112 Ukraine".
According to him, the national security Council decision on sanctions has ceased to operate.
In the sanctions list there are about 400 Russian politicians, oligarchs, about 100 Russian companies.
According to him, sanctions have been imposed for one year, and on September 16 of this year, ceased to operate. The new solution is still there.
"These "sanctioned holidays" are made understandable goal. According to my information, there is now a new market of corruption services, when you can from the sanctions list to exclude for certain arrangements of a material nature, or to include your competitor," – said the Deputy.
Leshchenko assured that he knows examples, when the "tangible reward" Russian companies fall under the sanctions to other companies that operate in Ukraine, received benefits. According to him, thus there is in fact a redistribution of the market.
"Some political figures that are close to the formation of these sanctions lists, just fill up your pockets with cash or non-cash that will go to their offshore accounts. Is corruption. Other explanation why already a month no sanctions, I can not find", – summed up the MP.
Read also: PACE: sanctions against Russia should be maintained
That Ukrainian sanctions against the Russian Federation do not work, I'm sure the MP of interfractional Association "DILL" Taras Batenko.
Restrictive measures against the Russian Federation from Ukraine entered into force on 2 January 2016, in particular, had imposed the duty on the import of goods from Russia. In addition, from January 10 it was banned the import of a number of Russian products. In particular, the list includes meat, fish, dairy products, cheeses, tea, coffee, confectionary, beer, vodka, cigarettes, baby food and more.
The EU called for further financial sanctions against Russia over the Kremlin's actions in Ukraine and Syria
TSN. 16:45
11 Oct, 17:21
Add to favourites
The President of the European Parliament Martin Schulz and European Council President Donald Tusk said at a forum in Germany. According to officials, Russia has actively supported right-wing nationalists throughout Europe. And ready to continue to use force in Ukraine.
Comments
comments