From a grenade explosion in the Donbass injured three civilians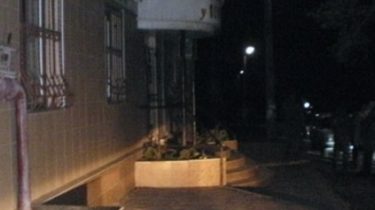 From a grenade explosion in the Donbass injured three civilians
It happened near the shop in the village alekseevo-Druzhkovka.
The police received the message that near the shop unknown persons blew up a grenade. The blast had injured a woman and two men. The bomber tried to escape but were detained by police.
About it reported in management of national police in the Donetsk region.
See also: Ivano-Frankivsk threw a grenade at the office of the OSCE mission media
The duty of the Kharkiv branch of the police called the witnesses of the incident. They said that an unidentified man threw a grenade at the side of the people who were standing near the shop.
At the scene arrived investigative team of the police and the expert.
The bomber, seeing the police, fled. But was detained and taken to the Kharkiv police.
The victims were hospitalized with shrapnel wounds of the legs, belly and neck. Among them are female.
See photos: the Metropolitan police has released details of the undermining of men on the grenade in Kiev
Militiamen establish all circumstances of incident.
We will remind, in the night of Saturday, October 15, in the town of Romny in Sumy region in one of the apartments flats explosion.
As a result of triggering an explosive device, two brothers – 2002 and 2013 birth – got fragmental wounds of hands. Parents did not pay attention to the find sons.
Comments
comments