SBU said, who benefits from the killing of terrorist "Motorola"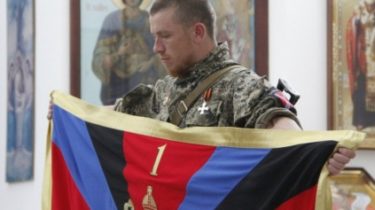 SBU said, who benefits from the killing of terrorist "Motorola"
© Elena Pavlova Vkontakte
Service admit that the occupied territories can be carried out "cleansing" of insurgents.
In SBU believe that the murder Thriller Arseniy Pavlov, known by the Callsign "Motorola", beneficial to the Russian government.
This was stated by the head of office of the Chairman of the SBU Oleksandr Tkachuk in the air "112 Ukraine".
"With our service, I would like to say that our investigators, of course, would like to have "Motorola" in their hands as a witness. He is accused in many cases where the prosecution and the suspicion of terrorist activities, the murder of our citizens. He also was a living witness to many events and was able to point to specific names of employees of the Russian special services, which gave instructions to kill our people. Therefore, the position of our service is that people have to answer in the first place, before the law and to be in the dock," said Tkachuk.
He suggested that in the occupied territories can be carried out "cleansing" of the militants.
"In this case, Pavlov really knew a lot and could have much to tell. It is beneficial primarily to the Russian leadership, as a political and intelligence agencies, they have not been in the dock in European criminal court," he explained.
See also: Ex-the head of the investigative Department of the SBU described the killing as "Motorola" hoax
We will remind that one of leaders of fighters of "DNR" Arsene Pavlov, nicknamed "Motorola" was killed on the evening of 16 October. It blew up in the Elevator of the house where he lived. In the group "DNR" in the murder of Pavlov blamed "Ukrainian sabotage-reconnaissance group". Motorola was one of the most cruel militants "DNR". In particular, he shot the prisoner Ukrainian military Igor Branovitskiy. Pavlov himself admitted the killing of 15 captured soldiers of the Armed forces of Ukraine. In Ukraine he was declared wanted.
Comments
comments