Berlin will host a meeting of leaders "channel format" with the participation of Putin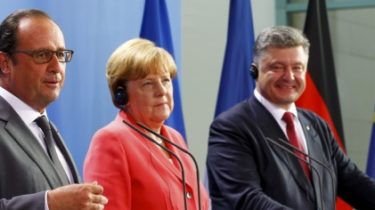 Berlin will host a meeting of leaders "channel format" with the participation of Putin
© Reuters
Politicians talk about the situation in the Donbass.
The President of Ukraine Petro Poroshenko during a telephone conversation with President of France Francois Hollande and Chancellor of Germany Angela Merkel agreed on a meeting of heads of state "channel format".
It will take place on 19 October in Berlin. The leaders of the "Norman format" will be to urge the Russian Federation to carry out part of the Minsk agreements on security, the press service of the head of state.
During the conversation, the politicians discussed the situation in the Donbass.
Read also: Poroshenko called the meeting "channel four"
"The President of Ukraine stressed the importance of a common position of Ukraine and countries of the European Union on the eve of the European Council Summit, which will take place on October 20-21, 2016 in Brussels, where will be discussed the strategy of relations with Russia", – stated in the message text.
Reuters, citing a statement by the representative of the government of Germany wrote, which is confirmed by the participation of all four heads of States: Ukrainian President Petro Poroshenko, the head of France Francois Hollande, German Chancellor Angela Merkel and Russian President Vladimir Putin.
We will remind, in September the heads of France and Germany said that the plan to collect the "Norman Quartet" in the coming weeks. In turn, the Deputy head of the presidential administration of Ukraine Konstantin Eliseev said that the meeting could take place in Berlin.
In August, Russia has effectively abandoned the negotiations in the "Norman" format to "positive movements on the part of Kiev".
Press Secretary of the President of Russia Vladimir Putin Dmitry Peskov said that now is preparing for the meeting "channel four" on the settlement of the situation in Ukraine. Putin himself said that the leaders of the "Normandy Quartet" will meet after reached a preliminary agreement on the settlement of the conflict in the Donbas.
Comments
comments