Putin is in Berlin preparing to meet with protests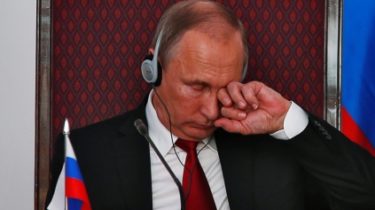 Putin is in Berlin preparing to meet with protests
© Reuters
The head of the Kremlin was not accepted in Berlin for four years.
Dinner in the Normandy format. Today Angela Merkel will host the leaders of France, Ukraine and Russia. Preparing for this meeting for a long time and the participants finally agreed only the day before. His last consent was given by the head of the Kremlin Vladimir Putin, says TSN.12.00.
The last time channel four at the highest level gathered last year in October in Paris. However, a breakthrough in the talks is difficult to expect. Even on the eve of Angela Merkel has asked not to have too high expectations from "Norman dinner". The Minsk agreement have stalled, and Merkel and Hollande are doing everything to make this process move.
Ukraine insists that a key element is the safety – long cease-fire, border control, security forces armed international mission. Russia expects Ukraine to the implementation of the political part of Minsk – the holding of local elections in the occupied territories, granting them Autonomous status and Amnesty to the militants. The result of the negotiations will depend on the position of Berlin and Paris.
To the last this meeting was called into question. Confirm it could in just a day.
Negotiations will begin in the evening – first at 18.30 in Kiev will be a meeting of Merkel, Hollande and Poroshenko, and only then the circle will join the Russian President.
Vladimir Putin was received in Berlin four years. To meet him in Berlin are preparing a protest demonstration.
After negotiations scheduled press conference, but obviously it will participate only to Merkel and Hollande.
A surprise to the international press, the organizing moment for negotiations and even a final press conference will not let any one camera, it will take only one German channel of the Central television.
Negotiations can last a long time and even until morning.
Comments
comments