In the OSCE claim that the non-public certain documents of the Minsk agreement does not prevent observers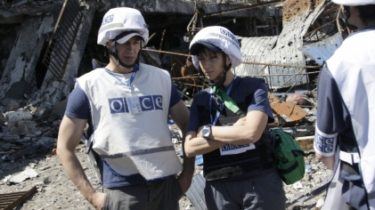 In the OSCE claim that the non-public certain documents of the Minsk agreement does not prevent observers
© Getty Images
But hampered by lack of access to some areas in the East of Ukraine.
Special monitoring mission of the OSCE stated that the non-public certain documents of the Minsk agreement does not prevent observers to carry out their activities in the Donbas.
It is reported by the OSCE mission in Facebook.
"The mode of non-public certain documents does not preclude the SMM to document compliance with the agreements reached," said to the SMM.
"What really hinders the efforts of the SMM to support the process of implementation of the Minsk agreements is the fact that the parties do not provide unrestricted and unhindered access by the mission to all areas", – noted in mission.
The OSCE also has reminded, what documents to guide their work.
See also: Immortal said that the Minsk agreements was only the secret maps of staff
Recall that the talks between the leaders of countries in the "Normandy format" (Ukraine, Germany, France, Russia) to discuss the situation in the Donbass and Syria, began in Berlin at 19.30 environment pond continued for three hours.
Previously it was assumed that the negotiations "channel four" will end at 22.00 on Kiev. It is also expected that after the meeting, the participants made a statement to the media.
The BBC said that part of the Minsk agreements classified
TSN. 19:30
Yesterday, 20:03
Add to favourites
This was stated by first Deputy Chairman of spazmolitinom of the OSCE mission in Ukraine, speaking at a conference in the European Parliament. He said that, as happens with the secret documents his organization has access to some of them. Therefore, to inspect the implementation of the Minsk hard.
Comments
comments