Skydiving and inspiring posts. To publish in the Network model with an amputated leg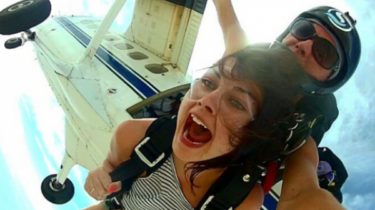 Skydiving and inspiring posts. To publish in the Network model with an amputated leg
Curiosities
Today, 13:48
1 of 15

Photo from the page of Jessica Quinn
© instagram.com/jessicaemilyquinn

1 of 15

Photo from the page of Jessica Quinn
© instagram.com/jessicaemilyquinn

1 of 15

Photo from the page of Jessica Quinn
© instagram.com/jessicaemilyquinn

1 of 15

Photo from the page of Jessica Quinn
© instagram.com/jessicaemilyquinn

1 of 15

Photo from the page of Jessica Quinn
© instagram.com/jessicaemilyquinn

1 of 15

Photo from the page of Jessica Quinn
© instagram.com/jessicaemilyquinn

1 of 15

Photo from the page of Jessica Quinn
© instagram.com/jessicaemilyquinn

1 of 15

Photo from the page of Jessica Quinn
© instagram.com/jessicaemilyquinn

1 of 15

Photo from the page of Jessica Quinn
© instagram.com/jessicaemilyquinn

1 of 15

Photo from the page of Jessica Quinn
© instagram.com/jessicaemilyquinn

1 of 15

Photo from the page of Jessica Quinn
© instagram.com/jessicaemilyquinn

1 of 15

First heels girl after amputation
© instagram.com/jessicaemilyquinn

1 of 15

Jessica Quinn in childhood
© instagram.com/jessicaemilyquinn

1 of 15

Jessica Quinn in childhood
© instagram.com/jessicaemilyquinn

1 of 15

Jessica Quinn in childhood
© instagram.com/jessicaemilyquinn
Photo from the page of Jessica Quinn
© instagram.com/jessicaemilyquinn

Photo from the page of Jessica Quinn
© instagram.com/jessicaemilyquinn

Photo from the page of Jessica Quinn
© instagram.com/jessicaemilyquinn

Photo from the page of Jessica Quinn
© instagram.com/jessicaemilyquinn

Photo from the page of Jessica Quinn
© instagram.com/jessicaemilyquinn

Photo from the page of Jessica Quinn
© instagram.com/jessicaemilyquinn

Photo from the page of Jessica Quinn
© instagram.com/jessicaemilyquinn

Photo from the page of Jessica Quinn
© instagram.com/jessicaemilyquinn

Photo from the page of Jessica Quinn
© instagram.com/jessicaemilyquinn

Photo from the page of Jessica Quinn
© instagram.com/jessicaemilyquinn

Photo from the page of Jessica Quinn
© instagram.com/jessicaemilyquinn

First heels girl after amputation
© instagram.com/jessicaemilyquinn

Jessica Quinn in childhood
© instagram.com/jessicaemilyquinn

Jessica Quinn in childhood
© instagram.com/jessicaemilyquinn

Jessica Quinn in childhood
© instagram.com/jessicaemilyquinn
Girl wants to run 10 kilometers.
Instagram is gaining in popularity is the model page from New Zealand Jessica Quinn, who lost a leg to bone cancer.
The girl was diagnosed and made the amputation in 9 years of age. She doesn't remember how she talked about cancer and how she was warned about the amputation. One morning the girl woke up without a leg and realized that it is not there. But now she put an end to the past and looks to the future. Girl wants to run 10 kilometers and will be able to overcome the 600 meters.
See also: the Model with an amputated leg has reproduced a provocative photo of Kylie Jenner in a wheelchair
On his page in Instagram beauty writes about the fight against the disease and to publish the posts that might inspire other cancer patients.
Jessica leads a very active lifestyle, is engaged in the gym, running and jumping with a parachute Now, watch for her life more than 100 thousand subscribers, also the girl has her own blog.
Comments
comments