There was a video from the hall, where there is a meeting of "Norman Quartet" in Berlin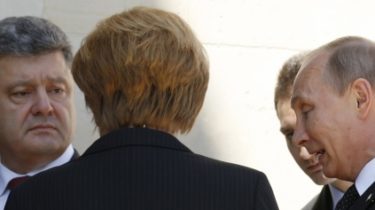 There was a video from the hall, where there is a meeting of "Norman Quartet" in Berlin
© Reuters
Journalists were admitted only for Protocol shooting.
The leaders of the "Normandy format" negotiations started in Berlin.
Edition DW posted a video from the courtroom, where there is a meeting of politicians. It can be seen that except the presidents of Ukraine, France, Germany and Russia, in talks attended by the foreign Ministers of these countries.
In Berlin, began meeting "Norman Quartet." Video straight from the courtroom pic.twitter.com/jPl5dXhRqd
— DW (Russian) (@dw_russian) 19 Zhovtnya 2016 R.
The press was allowed into the hall only to legal shooting, wrote on Twitter Russian journalist Dmitry Smirnov. The meeting itself will be held behind closed doors.
While the press led Protocol filming in the hall of the talks, Putin something discussed with Lavrov pic.twitter.com/wNDTyLicYG
— Dmitry Smirnov (@dimsmirnov175) 19 Zhovtnya 2016 R.
Comments
comments