Happy took a step to the approval of the state Budget-2017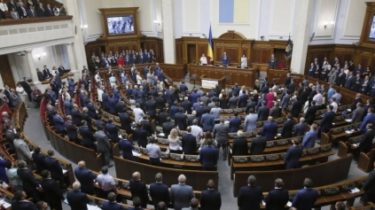 Happy took a step to the approval of the state Budget-2017
© UNIAN
The document was adopted in the first reading.
Today, October 20, during a meeting of the Verkhovna Rada the people's deputies in the first reading adopted the draft State budget for 2017.
The draft resolution on the conclusions and proposals to the Law of Ukraine on the state Budget voted 245 deputies.
Read also: Poroshenko agreed to spend from the state budget an additional seven billion
The Cabinet of Ministers submitted the document to Parliament a month ago, on September 15. Such a term is required by domestic legislation. Today, 20 October, came the end of the review period of the draft budget in the first reading. Within a month, MPs have already submitted 1165 amendments to the bill.
About the nuances of the draft state budget for 2017 read on TSN.ia this link.

The Draft Budget
New state budget: the government has planned to increase the minimum wage
TSN. Wounds
20 Oct, 10:07
Add to favourites
In the Verkhovna Rada will consider the draft budget for 2017. Most experts believe that today the new budget can take, more problems may occur prior to the second reading, because it contains a paragraph on special confiscation. Today I also plan to make a statement about the events of the Volyn tragedy.
Comments
comments