Breeding forces, elections in Donbass and the OSCE monitoring: what was said at the talks in Minsk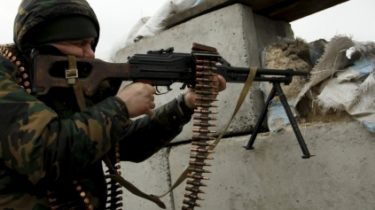 Breeding forces, elections in Donbass and the OSCE monitoring: what was said at the talks in Minsk
© Reuters
The holding of elections on the territory not controlled by Ukrainian authorities, is not possible.
Ukraine considers the whole complex of the Minsk agreements as a single package of documents.
This was reported by press Secretary of the Ukrainian representative in the tripartite group in Minsk Leonid Kuchma Darka olifer in Facebook.
Ukraine requires from the signatories of the implementation of commitments. In particular, in accordance with the delimitation line of September 19, 2014 the city of debaltseve should remain under the control of Ukraine, but was seized by members of ORDO contrary to the Minsk agreements.
"Cluster security – the starting point for the entire Minsk process. The ceasefire and sustainable peace, an essential condition for moving forward in addressing the humanitarian, political and economic issues. A special role should be given to OSCE. In non-government controlled part of the Ukrainian-Russian border should go armed with the OSCE mission", – said olifer.
Head of SMM OSCE Ertugrul Apakan said that the mission also has access to the places of withdrawal of forces and means.
"Holding the elections on the territory not controlled by Ukrainian authorities, where there are 40-strong group of foreign troops and a huge number of weapons, is not possible. Separately, Ukraine has raised the question of the abolition of the fake quasi-state structures which were created in ORDO 2014", – writes a press-the Secretary.
Also during the meeting of the Tripartite contact group Leonid Kuchma emphasized the need of unblocking the process of freeing people, as well as admission experts for the International Committee of the red cross in ORDA, moreover, the block of humanitarian issues was an important part of the meeting of leaders "channel four" in Berlin.
In violation of these agreements, the ICRC representatives were not allowed to hostages in ORDA.
Recall that the Plenipotentiary of Russia in the Trilateral contact group on Ukraine, Boris Gryzlov ahead of schedule left the talks in Minsk.
Gryzlov silently walked past the journalists to leave. But the trilateral contact group then continued to work.
The trilateral meeting in Minsk continued for three hours behind closed doors
TSN. 16:45
Yesterday, 17:08
Add to favourites
Now journalists are awaiting the release of representatives and the official comments. One of the topics of discussion is the disengagement in some areas of Donbass.
Comments
comments