To bypass the sanctions of the national security Council: as payment systems out of Russia for business in Ukraine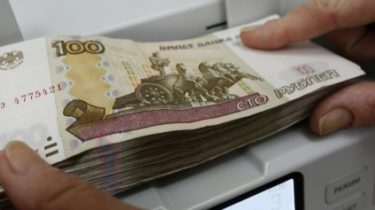 To bypass the sanctions of the national security Council: as payment systems out of Russia for business in Ukraine
Last week in Ukraine has banned the activities of the Russian payment systems.
Monday, October 17, the President signed a decree enacted the decision of the Council of national security and defense sanctions against the Russian payment systems on the territory of Ukraine.
However, despite this, payment organizations of Russia still find ways to earn extra money in Ukraine, this is reported by "Vedomosti".
So, forbidden to agree on the terms and procedure of activities in Ukraine four international payment systems created by residents of the Russian Federation. Among them, "ANELIK", "BLIZKO", "Unistream" and "Hummingbird." The latter, incidentally, falls under the management of "Sberbank of Russia".
See also: Escalation of the military conflict in Ukraine threatens Russia's economic challenges – Moody's
Entirely in the territory of Ukraine banned the activities of the two payment systems created by the Russians — the "Golden Crown" and "Leader."
"We are working on various options for the recovery of the service, but so far about the success of early to say", — said the representative of the payment system "Leader" journalists.
Payment system Zolotaya Korona transfers in Ukraine through the mediation of his partner IntelExpress. And it turns out to be "a Golden crown" in six Ukrainian banks, including in the state savings Bank. According to information on the website of the national Bank of Ukraine, payment system IntelExpress was in Georgia.
Read also: Russia downgraded the Outlook for its economy
As told the representatives of organizations, transfers "Kolibri" and "Leader" is not possible.
Transfer funds via "ANELIK" in Ukraine is possible only for Visa cards, and through "Unistream" on Mastercard. It is noteworthy that in both cases, money from Russia you can transfer cash, however, receive only electronically.
As for the organization, "BLIZKO", then it transfers are possible through the "fast and furious", which is subordinated to the "Mail of Russia".
Political pressure: another four countries have extended sanctions against Russia
TSN. Wounds
25 Oct, 13:01
Add to favourites
For the violation of Ukraine's sovereignty and annexation of Crimea restrictions against the Kremlin introduced the Montenegro, Albania, Liechtenstein and Norway. This decision, like similar to Ukrainian, in a statement approved Federica Mogherini. In addition, the EU representative for foreign Affairs recalled that Brussels imposed sanctions against Russia will act till the end of 2017 not less than.
We will remind, last week the Ukrainian national security Council expanded the sanctions list. Added to it was included 335 individuals and legal entities. 167 in addition, the sanctions extended to those who fell under the sanctions in the past.
Comments
comments