Scouts Russian position of the Ukrainian military aircraft – Hur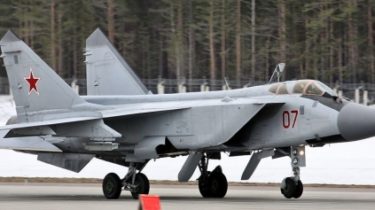 Scouts Russian position of the Ukrainian military aircraft – Hur
© vitalykuzmin.net/Виталий Kuzmin
Intelligence indicates that the aggressor continues to study the possibility of a full-scale invasion.
Russian occupation troops, in addition to the shelling, continues active exploration of the Ukrainian positions and the redistribution of forces in the ATO zone, at the briefing in Kiev said the representative of the Gur of the Ministry of defence Vadim Skibitsky.
Except drones, which are used for reconnaissance and to restore fire across the front line, and aircraft used.
"In particular, on October 25-26 in the airspace of the Black and Azov seas for the execution of complex intelligence operations marked activity of reconnaissance aircraft Il-20 and su-24MR, which are able to explore to a depth of 400 km," said Skibitsky.
The most difficult situation is in Mariupol and Donetsk areas. The militants do not stop provocations in order to accuse the Ukrainian side of violating the Minsk agreements.
"The peculiarity of fire influence of the enemy in these positions is to carry out systematic, provocative attacks on their own positions with small arms. The main objective of the actions of the Russian occupation troops – a provocation to return fire and charges of Ukraine in the fulfillment of the Minsk agreements", – said the representative of the Gur.
In addition, the leadership of the Russian Federation does not refuse from aggressive plans against Ukraine and the likelihood of a large-scale invasion, according to intelligence reports, Russia has fulfilled aviation attack on Ukraine, the exercise took place over Belarus.
"26 Oct, using commitments of the Republic of Belarus in the framework of the allied state, the Russian military aircraft in the airspace of Belarus worked out the issue of the conditional application of massive air strikes on strategic objects of Ukraine. On the objectives along the border of the airspace of Belarus was marked by the plane of distant radar detection and guidance A-50U, which exercised control of the airspace in the North-Western part of Ukraine and guidance of fighter aircraft, strategic bomber Tu-160 and two long-range bomber Tu-22M3, which were flying along the border of Ukraine and is conventionally carried out missile launches, two Sukhoi su-34, worked on educational issues of missile and bomb strikes," said Skibitsky.
Similar exercises were held in Belarus last year, but was sent to the Baltic States. Russia fulfills the possibility of armed conflict with NATO, including on the territory of our state, according to intelligence. Also increasing the impact potential of the Baltic fleet and black sea fleet. In particular, in the Crimea, stationed frigates and three submarines equipped with missile systems with a range of fifteen hundred kilometers. That is, they can sweep the entire territory of our country.
Comments
comments