Headquarters Clinton wants to obtain from the FBI any more information about her correspondence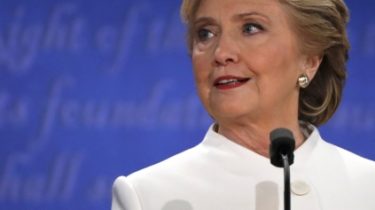 Headquarters Clinton wants to obtain from the FBI any more information about her correspondence
© Reuters
Clinton herself during her visit to Iowa did not respond to reporters ' questions about the FBI investigation.
The FBI should immediately provide more information about the new investigation email presidential candidate Hillary Clinton, said the head of the election headquarters Clinton John Podesta.
About it writes BBC.Russian.
Earlier, the head of the FBI James Komi said that the Agency resumed the investigation of the case involving the use of Clinton as Secretary of state USA personal mail server for correspondence. According to him, this is due to the detection of new emails. In a letter to the Congress of the United States James Komi said that it was unable to evaluate the significance of the found material and can not predict how much time it takes a new investigation.
The white house said it had not received any prior notification that the FBI investigates any new letters related to the case of Clinton.
Clinton herself during her visit to Iowa did not respond to reporters ' questions about the FBI investigation.
See also: media told, who could become Secretary of state in case of victory of Clinton
We will remind that earlier it became known that the US state Department resumed the proceedings over the use of Clinton's personal server to conduct official correspondence via e-mail during the period of its leadership office.
The scandal in connection with electronic correspondence with Clinton broke in March 2015. It turned out that she was in violation of the requirements led official correspondence from your personal email account when he held the post of Secretary of state. Clinton herself has previously stated that it was intentionally not sent or received a secret message from his personal email address.
Hillary Clinton and Donald Trumpkin went to key in the voting round Florida
TSN. Wounds
25 Oct, 08:52
Add to favourites
Polls show the minimum gap between the candidates in the preferences of the voters of this state. And Hillary Clinton now wins, and Donald trump, who is behind by 3%, went on a tour of Florida to reach out to those who have not yet decided for whom to vote. Though officially the presidential race in the USA is designed on the eighth of November, about 40% of the citizens want to vote in advance.
Comments
comments