Nasirov has declared more than $ 1 million and UAH 4 million in cash and more than 20 plots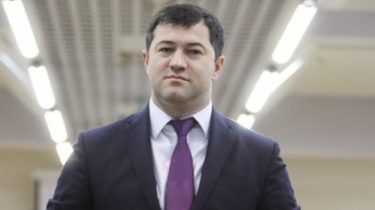 Nasirov has declared more than $ 1 million and UAH 4 million in cash and more than 20 plots
© UNIAN
The head of the SFS also owns an apartment, two houses and lots of jewelry.
The head of the State fiscal service of Ukraine Roman Nasirov holds cash of 1 million 160 thousand $ 450 thousand euros and 4 million 350 thousand hryvnias.
This is stated in the Declaration posted on the website of the National Agency for prevention of corruption.
In addition, 1 million 677 thousand 638 UAH Nasirov holds in the "Bank Boguslaw".
The wife of the Chairman of DFS Catherine Glimbovsky holding a 320 thousand dollars 240 thousand euros and 3 million 100 thousand hryvnias. In "PrivatBank" she lies 2509 UAH, in "BTA Bank" – 29180 UAH and 2 million 852 thousand 823 hryvnias – in "Bank Boguslaw".
See also: the Finance Minister has shown the Declaration: Antiques, SUV's and hundreds of thousands of dollars
The official pointed 36096 hryvnias of a salary, which he received while working in the Verkhovna Rada, 719 hryvnia of insurance indemnities of UAH 800 thousand. income from the alienation of movable property. 4.14 million UAH. he received from the transfer of rights and obligations under the agreement on participation in construction financing Fund, his wife 4,064 million.
Roman Nasirov owns five plots of land in Kozyn Kyiv region and 20 plots in the village Kolychevo in Chernihiv. He also owns a flat in Kiev with an area of 157 sq m, and his wife recorded four apartments. In addition, the Chairman of the SFS has two houses in Kozina and Vite Post.
Nasirov ride in two cars: Toyota Camry 2008 model year and Lexus LS600 2013 release. His wife has a Land Rover Range Rover 2013 release, Toyota Land Cruiser Prado 150 2014 release and Harley Davidson 1690 FLS TFB 2014 release.
See also: Parasyuk declared hours donated by St. Nicholas
Among movable assets Nasirov pointed out to Rolex and Breguet (2), and his wife is a Rolex (2 PCs), Breguet, Cartier and Chopard. In addition, five jewelry De Beers, Cartier two products, five products of the brand Van Cleef and Arpels, Damiani earrings, three brand bags Hermes, Chanel apparel, Antiques, artwork, guns, tableware Villeroy and Boch and other jewelry untitled
Wife Nasirov has corporate rights in CJSC "construction Fund resources" to 1.75 million UAH and is included among the members of the cooperative Lesnoy Bor.
See also: plot, garden house and nearly 2 million salary. Gontareva declared the income
Also Nasirov made the data on nominal leaseholders rights in Toynbee Partnership Housing Association Ltd and HSBC.
"These are the Anglo-Saxon system of law related to the case for the London apartment of pan Roman I forgot to mention both paper and in the current, electronic version of the Declaration. In fact, Nasirov will avoid responsibility, as noted by the presence of specific rights. What exactly had they will occur according to the leaseholders rights – a question of another order," – said on his page on Facebook journalist Alexander Limanov.
Ukrainians continue to learn about the incomes of Ukrainian officials
TSN. 19:30
Today, 20:21
Add to favourites
The Chairman of the National Bank Valeria Gontareva, which has repeatedly called on Ukrainians to keep their money in UAH, she accumulates them in dollars – they have it on account of one of the state banks $ 2 million, and independent Deputy Vyacheslav Konstantinovsky holds almost $ 150 million in cash. More information in the story TSN.
Comments
comments