"He has no core". Savchenko called Poroshenko a weak President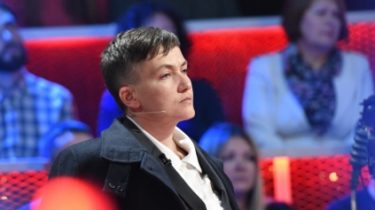 "He has no core". Savchenko called Poroshenko a weak President
© The right to Vlad
The politician criticized the head of state.
MP from the faction "Batkivshchyna" Hope Savchenko said that the President of Ukraine Petro Poroshenko is a weak negotiator.
According to the people's darling, the head of state is not enough rod to be strong in the negotiation process.
See also: fagin is convinced that the visit Savchenko in Moscow will harm the Ukrainian political prisoners
"Petro Poroshenko need to stay in power, it is necessary to comply with European partners. It does not have that rod, in order to be a true negotiator, strong negotiator, in many processes. He is a weak negotiator. Therefore, a weak President is a weak Ukraine," – said Savchenko in the air "112 channel".
Recall that on October 26 the people's Deputy of Ukraine, former political prisoner Nadia Savchenko unexpectedly arrived in Moscow for consideration in the Supreme court of appeal against the sentence of the Ukrainian political prisoner Mykola Karpyuk and Stanislav Cliche. Press Secretary of the President of Russia Dmitry Peskov said that the visit Savchenko in Moscow are not consistent with the Kremlin and there's no need.
Nadezhda Savchenko arrived in Moscow for a meeting on the case of Stanislav Klikh and Nicholas Karpuk
TSN. 19:30
26 Oct, 20:08
Add to favourites
The Russian Supreme court upheld the verdict of Cliche Stanislav and Nikolay Karpyuk. Ukrainians were sentenced to 20 and 22.5 years of imprisonment in a strict regime colony for participation in the Chechen war. To support the prisoners arrived in Moscow Nadezhda Savchenko. After nearly two years in prison this is her first visit to Russia.
Comments
comments