NABU found in MP-the fugitive Onishchenko passport of Greece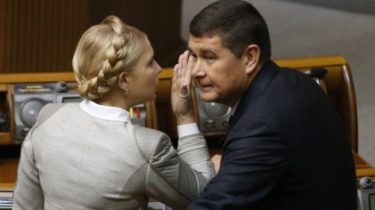 NABU found in MP-the fugitive Onishchenko passport of Greece
© UNIAN
The detectives NAB has filed a petition on arrest in absentia.
National anti-corruption Bureau found that the MP from the "Will of the people" Alexander Onishchenko has passport of citizen of Greece.
This is reported by "Ukrainian news" with reference to the decision of Solomenskiy district court of Kyiv on October 19.
See also: Mother Onishchenko looking for NABOO
It is noted that the detectives NAB has addressed in court with the petition for correspondence arrest of the Deputy from the alternative pledge of 1.6 billion hryvnia. While the police failed to establish where the Deputy.
"Onishchenko before it has a private plane and is free to travel with Ukrainian passport and the passport of the citizen of Greece, constantly changing place of residence", – the document says.
Materials on the international wanted list Onishchenko sent to the Interpol.
The court partially granted the petition and elected Onishchenko measure of restraint in form of detention. Law enforcement officers ordered not later than 48 hours from the moment of detention the suspect to deliver it to the court for consideration of the application of a preventive measure in the form of arrest or change it to the softer measure of restraint.
Earlier, the NAB reported that Interpol may declare an international arrest warrant of scandalous people's Deputy Oleksandr Onishchenko is not until October.
Onishchenko is suspected of organizing schemes of embezzlement of funds during the extraction and sale of natural gas within the framework of joint operation agreements with PJSC "Ukrgasdobycha", which was caused to the state damage for the sum about 3 billion UAH.
On 5 July, the Verkhovna Rada of Ukraine gave consent to bringing him to justice, detention and arrest. However, on the eve of the vote, taking advantage of the status of MP, Onishchenko left the territory of the state. On 27 July the Prosecutor General of Ukraine signed the message on suspicion to the people's Deputy. 8 August was declared national search. According to latest information he is in London. A few days later he wrote in his Facebook that for the British jurisdiction, the GPU is little ground for his extradition to Ukraine.
Meanwhile, the people's Deputy-the fugitive arrested property at 700 million hryvnia , and promise soon to declare the international wanted list.
Comments
comments