Zombie parade in Kiev: realistic "undead" and hunters of evil spirits came together in the center of the capital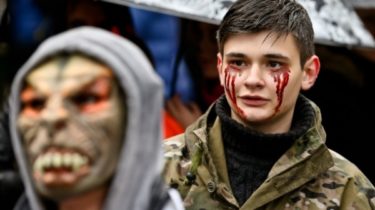 Zombie parade in Kiev: realistic "undead" and hunters of evil spirits came together in the center of the capital
Kiev
Today, 13:05
1 of 18

© UNIAN

1 of 18

© UNIAN

1 of 18

© UNIAN

1 of 18

© UNIAN

1 of 18

© UNIAN

1 of 18

© UNIAN

1 of 18

© UNIAN

1 of 18

© UNIAN

1 of 18

© UNIAN

1 of 18

© UNIAN

1 of 18

© UNIAN

1 of 18

© UNIAN

1 of 18

© UNIAN

1 of 18

© UNIAN

1 of 18

© UNIAN

1 of 18

© UNIAN

1 of 18

© UNIAN

1 of 18

© UNIAN
© UNIAN

© UNIAN

© UNIAN

© UNIAN

© UNIAN

© UNIAN

© UNIAN

© UNIAN

© UNIAN

© UNIAN

© UNIAN

© UNIAN

© UNIAN

© UNIAN

© UNIAN

© UNIAN

© UNIAN

© UNIAN
Parade participants prepared an incredibly creepy costumes.
In the center of Kiev on Sunday, 30 October, held a "Zombie parade" in honor of Halloween.
Near the monument to Yaroslav the Wise gathered dozens of "zombie", "mutant" and other representatives of "evil". To "fight" with them was the so-called "hunter" who had "shot" monsters, defending Kiev.
Parade participants marched to St. Sophia square, down to St. Andrew's descent to Kontraktova square and ended the procession at the Pedestrian bridge behind the Post area, scaring passers-by threatened to "eat their brains."
See also: Creative couple: Katy Perry and Orlando bloom turned to Clinton and trump for Halloween
Comments
comments