Camera to monitor animals photographed fully naked man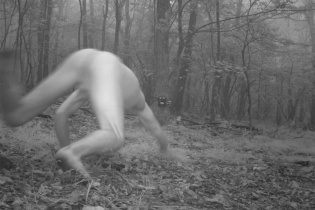 Camera to monitor animals photographed fully naked man
© twitter.com/marcellajkelly
Two cameras made a total of about 40 shots.
Cameras installed in the forest near the biological station to mountain lake in the USA, took a completely naked man.
About it writes the edition Motherboard.
The cameras were installed by biologists to monitor wild animals. After rounds of observation posts and withdrawal of the memory cards from both cameras was discovered a total of about 40 shots.
Apparently, the unidentified man noticed the camera, stripped naked and began running on all fours.
Professor of the Polytechnic University of Virginia Marcella Kelly has published a couple of photos on Twitter and wrote: "Well, someone else came across a photo of the primates, like those who have shot our forest camera?".
So, anyone else get primate photos like this from cam forest traps. Many more were "very clear". I chose not to post. Certainly a 1st 4 me. pic.twitter.com/VIGALfh9XO
— Marcella J. Kelly (@marcellajkelly) 28 Oct 2016
Comments
comments