Mosiychuk was admitted how much his wedding near Kiev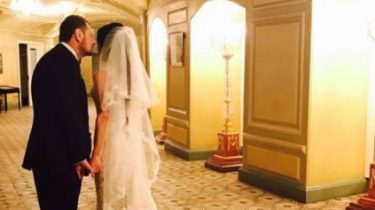 Mosiychuk was admitted how much his wedding near Kiev
© facebook/Andrey Lozovoy
The MP has promised to declare the cost of the wedding celebration.
Wedding Verkhovna Rada Deputy Ihor Mosiychuk in the country complex near Kiev cost him 500 thousand hryvnia.
This MP told the "Ukrainian news".
Mosiychuk also said that he will bring these costs in the income Declaration for the year 2016.
Note, in connection with the electronic Declaration for 2015, the MP has no real estate, but owns a collection of antique bladed weapons and the right of ownership to know-how – the name of the unit of volunteers "Black men".
Recall, October 21 the controversial radical Igor Mosiychuk married to a police Lieutenant. Age of 10 years, the bride's Deputy was hiding for two years, and only now it became known who she was. For the sake of his sweetheart before marriage , he lost about 100 kg of weight. With his new wife politician wants to have two children. The ceremony of marriage, he's wearing a black suit and red tie, and the bride wedding dress with long train.
Comments
comments