NAPC will go to the officials to visit and count declared cash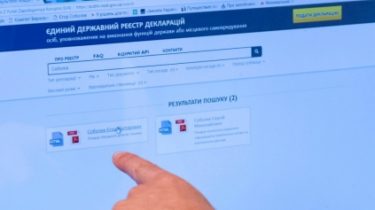 NAPC will go to the officials to visit and count declared cash
© Reuters
The attorney General said that the reporting tools and belongings should be available.
The national Commission for prevention of corruption prepares to go to for declarants to visit and check whether their homes are declared things, particularly marked in e-cash returns. This was announced at a briefing the public Prosecutor Yury Lutsenko.
"You can't declare missing values. I want to note that NAPC should prepare draft orders check – to visit the declarants for the presence of declared assets. Media have said that the cash probably does not exist in stock, what is the likely cover for future bribes. Therefore, NAPC is entitled to come to the declarant. In parallel, we together with the DFS will verify that you paid the taxes on these amounts," – said Lutsenko.
The head of the GPU warned of "jokers" such as the people's Deputy Sergei Melnychuk, who declared trillion hryvnia cashto put in electronic documents the necessary changes, because these jokes are subject to criminal liability.
Verification of declarations announced and the National anti – corruption Bureau – in the first place under the inspection of fall MPs, judges and prosecutors.
Note that declared some officials cash a lot of weigh, for example, a weight of cash, one of the MPs more than twice the weight of heavyweight boxer. Significant details to learn in our test: Which weighs more: cash Kernes or five hundred Iphone7?

TSN.ua
Comments
comments