Parasyuk explained who are meant by St. Nicholas in his Declaration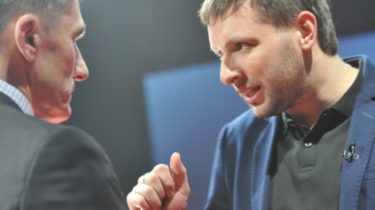 Parasyuk explained who are meant by St. Nicholas in his Declaration
© The right to Vlad
The MP called for an end to "naphthalene-Communist" politics.
"Presented to St. Nicholas" watch that the people's Deputy Vladimir Parasyuk pointed out in his Declaration, he gave sister.
The MP said in comments to the edition "Gordon".
"In our family since I can remember, has always been the tradition of giving gifts on Nicholas. We – people of faith, go to Church. And everyone is waiting for St. Nicholas day. As for the record in my Declaration, then it is really true. The clock on St. Nicholas gave me a sister," said Parasyuk.
See also: Fleet and hours from St. Nicholas: the deputies continue to amaze e-declarations
According to the Deputy, he pointed out "the clock from St. Nicholas" to show that he is not afraid of the declarations and he has nothing to hide. He doesn't understand the hype around his hours and believes that in Ukraine "naphthalene-Communist" attitude to politics.
"I don't understand why people are so skeptical about this. For example, President Barack Obama actually allows himself to speeches and press conferences to drop the MIC. And we have naphthalene-Communist politics. And it needs to change. To take the example of the West, with how their policies relate to any serious things. I am very calm when talking about the Declaration of incomes," he said.
See also: "a gift from the Mikalaichyk," a ticket to space and Holy relics. Guess who the politicians it owns
We will remind, people's Deputy Vladimir Parasyuk declared the watch, which he gave to St. Nicholas. In the Declaration of the Deputy stated that the watch Samsung Gear s2, the value of which was $ 7999 UAH he received as a gift 19 December 2015. "Watch. Gift. PS. Brought Saint Nicholas. But I can not say exactly, because I was asleep," said Parasyuk in the description of the property.
Under the mattress: the Ukrainian deputies explained why retain large amounts of cash
TSN. 19:30
Yesterday, 22:13
Add to favourites
How various bills it looks like one or other amount how much weight, what should be the area where going to fit – that was the reaction of users to electronic declarations of the deputies. Significant amounts of cash from deputies and other officials – a bad sign, economists say. At the same time, sure, not all of the money in cash do exist: the amount could even inflate to legalize corruption schemes in the future.
Comments
comments