In "DNR" have massive appeal and increasing terrorist unit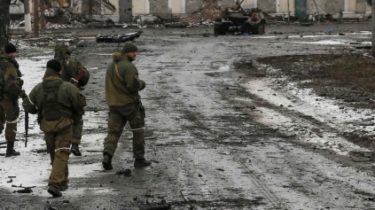 In "DNR" have massive appeal and increasing terrorist unit
© Reuters
About 60% of those who received subpoenas have ignored this requirement and did not arrive in the military.
In the so-called "DNR" take measures for replenishment of terrorist units.
About this on his page in Facebook said MP of Ukraine and the coordinator of group "Information resistance" Dmitry Tymchuk.
"Command "1-St of AK DNR" measures for fitting of parts and units personnel to staffing requirements, including through conscription of the local population. At the same time, there is reluctance of local residents to join the ranks of terrorists", – stated in the message.
It is reported that in the village Panteleymonovka local men massively present the agenda.
Read also: Russia disguised in a forest near the Ukrainian border a significant amount of military equipment
"In particular, in the settlement Panteleymonovka (p. G. T. in Gorlovka city Donetsk region) military service men were given summonses to arrive at the recruiting office. However, according to the report of the management of military, about 60% of those who received subpoenas have ignored this requirement," wrote the MP.
With the words Tymchuk, the current shortage of units of personnel "1-St of AK DNR" is mainly covered by the resupply of the Russian mercenaries.
"So, the draft Board N. p. Makeyevka came from a group (about 25 people) mercenaries from St. Petersburg (Russia), most of whom had previously taken part in the fighting in Chechnya. Arrived mercenaries heading for the positions of Deputy commanders of platoons of infantry and mortar units," he added.
Recall, also Dmitry Tymchuk reported about numerous diseases of fighters terrorist "DNR" and "LNR". According to him, among the militants there are HIV-infected. In addition, due to violations of sanitary norms in the units of the "DNR" recorded a case of mass disease scabies.
Comments
comments