Crimes against Maidan: Lutsenko will hold talks in the Hague with representatives of the criminal court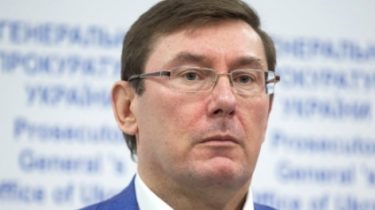 Crimes against Maidan: Lutsenko will hold talks in the Hague with representatives of the criminal court
© UNIAN
According to representatives of the ISS lacks the scale of the events during the revolution of Dignity.
Prosecutor General Yury Lutsenko will hold talks with representatives of the International criminal court in the Hague on crimes against activists of the revolution of Dignity.
This was stated by the Deputy Prosecutor General Evgeny ENIN, – informs "5 channel".
For full consideration of the case Kiev should provide the court with evidence that aggressive action against peaceful uprisings took place not only in the capital but throughout the country. Because, according to representatives of the ISS, there is a lack of scale events. They are convinced that the events in relation to the mass killings had quite a localized character.
"It was the efforts of the Ukrainian investigation, and with the support of diplomacy, we try to convince ISS that these events took place on a large scale. What we are talking not only about the events in Kiev, and the suppression of peaceful uprisings in other regions of Ukraine – in Ukraine," said ENIN.
"The second issue of concern to US: they don't know for sure until the end that was foreseen the execution that was covered by the previous plan, plan. But, we have to prove that it was premeditated," said Henin.
See also: GPU not found evidence of the involvement of Dobkin and Kernes in Kharkiv to the beating of protesters, Gorbatyuk
We will remind that earlier investigators of the PGO detained four former employees of a battalion of militia of special purpose "Berkut" of the MIA of Ukraine in Kharkiv region, who are suspected of crimes against the Maidan.
As noted, the arrest occurred on Thursday, June 23. According to GPU the detainees are suspected of "committing, on 18 February 2014, on Institutskaya street, Castle lane and Hrushevskoho street in Kiev, to perform clearly criminal orders of actions aimed at illegal hindrance to holding meetings, rallies, campaigns and demonstrations) and the abuse of power and office powers which has entailed approach of heavy consequences in the form of causing, as a result of applying special means, serious bodily injury, the 35 citizens, as well as committing over attempted premeditated murder of two and more persons, in a manner dangerous to the lives of many individuals on preliminary arrangement by group of persons".
Comments
comments