Poroshenko warned declarants about check cash: Where are you, dove gray, took the money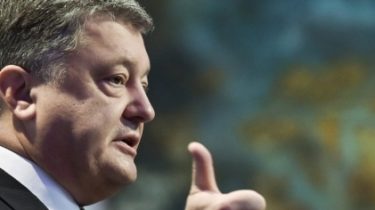 Poroshenko warned declarants about check cash: Where are you, dove gray, took the money
© UNIAN
The head of state proposed to expand the list of those who must specify their income.
President of Ukraine Petro Poroshenko appealed to for declarants who stated in the documents of a large amount of cash, and promised to check the specified data.
According to the head of the state, the electronic Declaration will allow officials to explain the origin of acquired property.
See also: What weighs more: cash Kernes or five hundred iPhone7? Difficult test for e-declarations
"Many of those who filed the Declaration, attributed the cache, thinking that this is a null Declaration and then it will allow them to avoid inspections. But the key position is to draw a line of what they were doing 25 years. This (Declaration – Ed.) will give them the opportunity to explain "where are you, dove gray, took the money", – quotes Ліга.net words Poroshenko.
According to him, the e-Declaration is an important step and the President had to declare all – "from the pillows on the couch to the cups in the kitchen."
"We must not fight with the rich, as some think, but with criminals who take apartments, cars, cottages, villas, airplanes, being all the time in the public service", – quotes the head of state's press service.
Poroshenko promised that all questionable data from the declarations of politicians and bureaucrats check and suggested expanding the list of persons who should declare their assets. The initiative to declare war he did not support.
We will remind, earlier the President of Ukraine Petro Poroshenko announced the electronic income Declaration for the year 2015. In addition to the vast earnings he pointed out in the document house in the exclusive village of Kozin, two apartments in Kiev and one in Vinnitsa. Poroshenko's team is also more than a hundred companies.

TSN.ua
Comments
comments