After the announcement of the withdrawal of immunity MP Novinsky lightning left Ukraine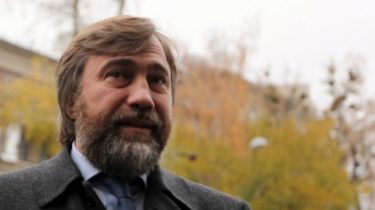 After the announcement of the withdrawal of immunity MP Novinsky lightning left Ukraine
© UNIAN
The MP flew his own plane to Greece.
Today, 4 November, at half-past nine the people's Deputy from "Oppositional block" flew from Ukraine to Greece. Before that , the Prosecutor General Yuri Lutsenko said that asks the Verkhovna Rada to remove from Novinsky integrity.
"According to our data, Novinsky this morning at 9:30 flew to Greece, to Thessaloniki, from "Jules" (airport "Kiev"), by its Board," – said the Chairman of SBU Vasily Gritsak, quoted by Hromadske.ua.
Novinsky is suspected of unlawful imprisonment of Archbishop Pereyaslav-Khmelnitsky and Vishnevsky Alexander drabinko, who at the time was personal assistant to the late Primate of the Ukrainian Orthodox Church (Moscow Patriarchate) Metropolitan of Kiev and all Ukraine Vladimir.
He Novinsky stated that there is no reason for the lifting of his immunity.
The MP also claimed that escape from the Ukraine will not. However, he left the country.
Vadim Novinsky said that escape from the Ukraine is not going
Releases TSN
Today, 08:32
Add to favourites
Only I will go to Greece on mount Athos. On the eve of Yuri Lutsenko has sent in Parliament the representation of deprivation of the Deputy from the Opposition bloc of parliamentary immunity. As partner he takes on the case of attempt of capture Yanukovych and surrounded by Church authorities for attempting to remove the then head of the Moscow Patriarchate Metropolitan Volodymyr. Novinsky long accused of illegal imprisonment of the personal assistant to Vladimir – to put pressure on the patient Patriarch.
Comments
comments