In Kiev covered the conversion center with a monthly turnover of 100 million UAH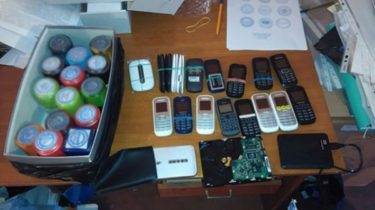 In Kiev covered the conversion center with a monthly turnover of 100 million UAH
Money
Today, 14:27
1 of 6

© National police of Ukraine

1 of 6

© National police of Ukraine

1 of 6

© National police of Ukraine

1 of 6

© National police of Ukraine

1 of 6

© National police of Ukraine

1 of 6

© National police of Ukraine
© National police of Ukraine

© National police of Ukraine

© National police of Ukraine

© National police of Ukraine

© National police of Ukraine

© National police of Ukraine
During the searches police seized 45 seals of fictitious firms.
Operatives of the Department of Economics of national police liquidated the konvertatsionny center in Kiev, with a monthly turnover of 100 million hryvnia. Part of the conversion center includes more than 30 entities.
Offenders are provided services on registration of loan and illegal conversion of funds in cash with the provision of the transaction document, the press service of the National police.
"The services of the konvertatsionny center was used by the real sector of the economy, paying 10-12 percent of the amount, which is output them in "shadow". Economic relations were conducted with fictitious companies," – said in the message.
See photos: SBU I exposed the konvertatsionny center in the area of ATO
During a search militiamen withdrew the computer equipment, 33 mobile phones, Bank cards, documents and records confirming the illegal activities of conversion center. In addition, it was taken 45 seals of fictitious firms.
Now 25 accounts seized.
It is noted that the money laundering offenders face the imprisonment from 8 to 15 years.
We will remind, earlier in Kiev had blocked the operation of the conversion center, which was transferred and transferred to cash money that was used to Finance terrorist organizations "DNR/LNR".
Comments
comments