The case of Ephraim in control of Lutsenko – head of the Department of special investigation GPU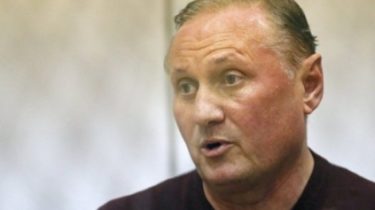 The case of Ephraim in control of Lutsenko – head of the Department of special investigation GPU
© UNIAN
According to the Gorbatyuk, due to the lack of a joint center for the coordination of investigations, they are of poor quality.
Proceedings opened against the former head of fraction of Party of regions in Verkhovna Rada Alexander Efremov personally Prosecutor General of Ukraine Yuriy Lutsenko.
This was the head of the Department of special investigation GPU Sergey Gorbatyuk said in an interview with "Hromadske radio".
"The production do we have in the Department, but his investigation is directly governed by the attorney General, that is, the investigators reported to him, not me. This case has nothing to do with Maidan. This is the event palamidessi, so I'm here can't talk about prospects, not about evidence, nor about the future of this production," he said.
According to the Gorbatyuk, that the investigation into the seizure of administrative buildings in Luhansk and Donetsk SBU is not the GPU, and investigative units of the SBU and affect its quality.
"I reported to the attorney General that these cases, in order to achieve a good result, should be investigated together or in a coordinated manner. He agreed, but as far as I know, it is that part of the proceedings in relation to the referendum and the seizure of administrative buildings is investigated in the Luhansk region, part – in the Donetsk region, part – in the Main investigation Department of the SBU, and about Ephraim – we", – said the head of the Department of special investigation GPU.
Mr. Yan also said that, in his opinion, there should be a single centre for the coordination of all investigations "and probably the result of the SBU, as it is their jurisdiction".
We will remind, against Ephraim opened the proceedings on the fact of falsification of results of voting in the Verkhovna Rada for "dictatorial laws" 16 of January 2014; over the malpractice in the procurement of state enterprise "Luganskugol" provision of services for installation of mining equipment and low-voltage equipment.
Also Efremov suspected of committing a deliberate action to change the borders of Ukraine, and involvement in the creation of the terrorist organization "LNR".
In late July, Ephraim was detained at the airport "Borispol", where he, according to the GPU, tried to fly to Vienna.
On September 27 the Pechersky regional court extended the term of arrest of Ephraim until November 24.
Comments
comments