The defense Ministry told about the losses among the Ukrainian military in the ATO zone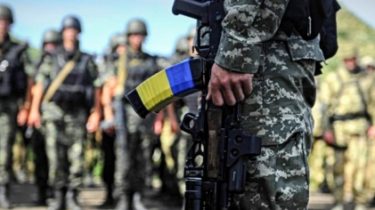 The defense Ministry told about the losses among the Ukrainian military in the ATO zone
© firtka.if.ua
One of the soldiers, who had previously wounded in the ATO area, died in a hospital in Zaporozhye.
A day in the zone of the antiterrorist operation killed one soldier, two more wounded, one soldier died from wounds sustained earlier in the hospital.
This was at the briefing said the speaker of the Ministry of defence of the ATO Andrei Lysenko.
"Over the past day as a result of combat actions 1 Ukrainian serviceman was killed and two were injured. Another soldier who had received a wound in the area of the ATO died in the hospital of Zaporizhzhia city", – said the Colonel.
According to him, during clashes – one wounded in semyhir'ya and in the town – one dead, one wounded by enemy fire.
Recall that today, October 4, in Kiev on Independence square said goodbye to the two dead bodies in the Donbass, Aydar – 30-summer Sergey Kochetov with the call sign "cat" and 28-year-old Nicholas Saucon with the call sign "Frenchman".
They were killed yesterday during a mortar attack in the village of Glorious Donetsk region. The victims were best friends.
Comments
comments