In the Donbass, to restore the destroyed militants bridges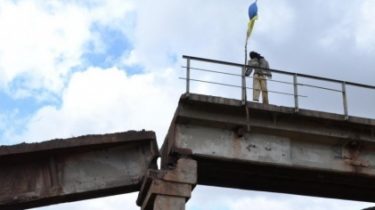 In the Donbass, to restore the destroyed militants bridges
© UNIAN
Terrorists exploded crossings in the Donbas still have seven.
At the front five wounded during the day, report at the headquarters of ATO. The hot remains of the Mariupol direction. Only there on the heads of Ukrainian soldiers, Russian mercenaries poured 25 min. from nearly 40 throughout the East.
While the enemy shoots large caliber, behind the Ukrainian army continues the renovation work consequences of enemy attacks. This is stated in the plot of TSN.19:30.
Stepping in 2014, the militants blew up a dozen bridges. Now the Ukrainians from across the country patch up the evil legacy of terrorists.
In 2014, in Slavyansk in the Donetsk region was not just a crossing, and the first gate to hell. When the film crew of TSN was first out on the pontoon and cautiously looked to the right, it is powerful and blow up the bridge warned that there is a real war.
Now, on this bridge from the state budget allocated 37 million. Although at first started with 150. It could not dismantle the unexploded shell. Now build again. And on this, the longest in the Donetsk region, in Sukitomo spent more than 40 million. Its only one side blew up the militants when they retreated to Gorlovka. Now it is not just repair, but also expand.
Bridge near Siverskaya. For him, Ukraine has spent about 20 million hryvnias, and also after the explosion of rebuilding from scratch. But here, after only a few of the local historic calls a spade a spade: "Separatists here had left and blew up".
The work goes on in two shifts, even at night. The head of the field visits so far, only three objects and calls the ambitious terms of readiness.
"The bridge must be ready before the New year. But since I'm a Roman Catholic, promised me my Christmas to do," says the head of the civil and military administration of the Donetsk oblast Pavlo zhebrivskyi.
Blown up by terrorists in the Donetsk region crossings are still seven. But they are on the front lines, so they can't examine the master and draw up an estimate. Repairers also answer that the work is ready. Although the extent of the damage to them even more difficult to imagine.
Anna Bock
Comments
comments