The militants "LNR" announced the arrest of representatives of the "Azov"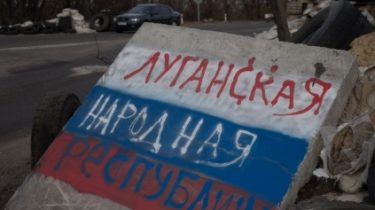 The militants "LNR" announced the arrest of representatives of the "Azov"
© Archive
In a press-service of a regiment not yet possess information about the arrest.
The militants "LNR" declared that detained the representatives of the "radical neo-Nazi group, which is the clandestine branch of the "Azov" battalion – a group of fans of FC Zarya "Ultras Black and White".
This was reported on the website of the so-called "Ministry of state security of LPR".
"When carrying out quickly-search actions established that in Lugansk in Lugansk was created by the radical neo-Nazi group, which is the clandestine branch of the "Azov" battalion. Arrested its leaders – Ovcharenko, Vladyslav V., born in 1996, Akhmerov Artem Olegovich, 1997 concerning them criminal case under article 335 "MC LC" (treason in form of espionage)," – said the militants.
In the so-called "Ministry" convinced that the leaders of the "group" was recruited "by an employee of the Main intelligence Directorate of the Ministry of defense of Ukraine with the Callsign "Big bad" and kept the symbolism of the battalion "Azov", the "Right sector" FC "Zarya" ("Ultra Black and white").
See also: Separatist Khodakovsky admitted that the rebels are shelling from residential areas
The militants claim that the detainees were distributing neo-Nazi literature and leaflets" calling for the overthrow of the constitutional order "of the Republic."
"Their activities were financed by the Ukrainian security services and right-wing organizations of Ukraine", – wrote in "the Ministry".
Also it is reported about carrying out checks "on the possible involvement of members of the group to the adjustment of artillery fire in Lugansk in 2015, to the mass killings on the Maidan in Kiev, in Odessa House of trade unions, to the provocations and attacks on activists during the "referendum "LC".
As reported by TSN.news Agency in the press service of "AZOV", as they do not have any information about the detainees and their possible involvement in the activities of the battalion.
The press service noted that the information appeared in the Russian media, so the news can be dropped from the Russian Federation.
Recall that the leader "LNR" Igor Carpenter wants to establish a new level of "personal dictatorship" in the "country". Wrote about this on his page in Facebook the head of group of military-political research "Information resistance" Dmitry Tymchuk. "In particular, "national Council of the Republic" was submitted for consideration developed on the instructions of Igor Plotnitsky "the bill on parliamentary control", which enshrines the right of MPs to Express no confidence in the heads "of the Executive authorities LNR", – he said.
Comments
comments