Huge fake and a bubble. Yarosh expressed respect to the visa-free regime with the EU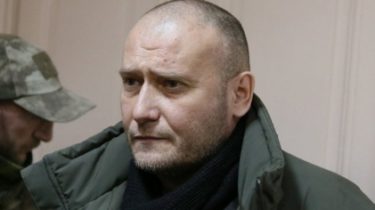 Huge fake and a bubble. Yarosh expressed respect to the visa-free regime with the EU
Dmytro Yarosh© UNIAN
In his view, the West only plays with Ukraine.
The introduction of a visa-free regime between Ukraine and the European Union would entail no positive changes for Ukrainians. This was stated by the MP Dmitry Yarosh in an interview with "Ukrainian truth".
"I'm not interested in a visa-free regime, it is a huge fake and a bubble. You will see that even if this happens, no positive changes for Ukrainians will not happen. It's a fake", he said.
Read also: foreign Ministry has assured that bezviz for Ukraine is not connected with the settlement of the situation in the Donbass
To a journalist's question, does the West with the Ukraine, and in fact, free movement will not be introduced, Jaros said, "They all play. Because each country has its own national interests and it is natural, because here they are not to blame".
In his opinion, in the world, Ukraine does not want to see as a competitor and a powerful player.
"We all observed, in particular, on the example of "Minsk agreements", and the example of elections in the Donbass and the like. Ukraine wants to destroy as a unitary, powerful state in the future, especially with the army that we have now. The same e-Declaration. There was a certain desacralization of power, as such, the gap between the people and the society only grew. And I think that this, too, has been artificially made for reducing the influence of Ukraine as a subject of international politics. Ukraine strive to lead in the manual control mode", – said Yarosh.
As reported, on September 26, the European Parliament's Committee on civil liberties supported the granting Ukraine visa-free regime. In turn, Petro Poroshenko repeatedly stressed that the Ukrainians will get visa-free regime until November 24.
Comments
comments