In Volyn fifty miners on hunger strike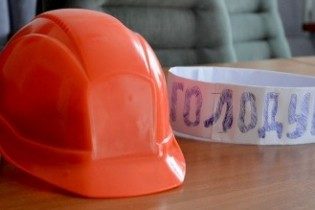 In Volyn fifty miners on hunger strike
© Confederation of free trade unions of Ukraine
The miners demand that gave them salary arrears for three months.
Today, 7 November, fifty miners of the unfinished state of the mine No. 10 "Novovolynsk", which is located in the town of Novovolynsk in the Volyn region, after finishing his work shift went on hunger strike. So they want to attract the attention of authorities to the fact that the delay of salary for three months for a total amount of 7 million UAH.
To a hungry protest intend to join the miners of the second shift. This is stated in the press service of the Confederation of free trade unions of Ukraine.
"Something special, do not ask. Required only to repay existing debt on a salary, which is already three months. We owed 7 million. If desired, the money could find. We also demand that the state budget for next year was allocated for the completion of the mine. And the required arrival of the Minister of energy and coal industry Igor Nasalik", – said the Chairman of a primary cell of Independent trade Union of miners of Ukraine (npgu) mine No. 10 "Novovolynsk" Basil the great-Grandfather.
Note, October 27, approximately 300 miners Novovolynska mines blocked customs crossing the border Yagodin. Also demanded to return debts under the salary.
"Unfortunately, the expected result is not given. In the same way as a trip to Kiev, where miners picketed the Verkhovna Rada and the Cabinet of Ministers. So the miners are forced to resort to extreme measures such as hunger strike," – said the npgu President Mikhail Volynets.
We will remind, mine No. 10 in Novovolynsk began to build in the 1980s. She is the only one in Ukraine a new, but unfinished mine, funding for which was carried out at the expense of budget funds.
Earlier it was reported that miners in addition allocated nearly 53 million hryvnia for salaries.
Comments
comments