The boy who with his father ran through the lively Avenue in Kiev, died in the hospital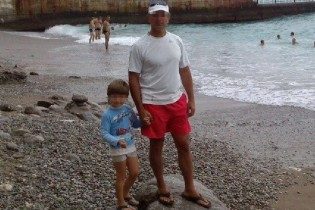 The boy who with his father ran through the lively Avenue in Kiev, died in the hospital
© Browser
According to preliminary data, the man argued with his wife, who is faster to cross the street.
Little boy with his father on the Avenue General Vatutin in Kiev was hit by a car, died in the intensive care unit.
About it reported in Department of communication of the police of Kiev.
"The man with the child ran into the roadway and fell under the wheels of "Lanos". As a result, the father from the received wounds died on the scene, and his 6-year-old son died last night in hospital", – stated in the message.
Crossing the road with his father and 6-year-old son at an undisclosed location ended with the death of
TSN. Wounds
Today, 12:26
Add to favourites
Yesterday in the capital late in the evening a man with a six year old son in an unknown place ran one of the busiest streets – prospect Vatutina. Had to cross only three lanes of the six. Then they were hit by a car. From hitting the father and the son flew over a bump. The man died on the spot, a boy with serious injuries was taken to the hospital. According to preliminary information, the man ran with the child across the roadway, because they argued.
Recall, on the eve in Kiev, the father and son ran across the road in an unspecified place. At the same time his wife together with another child went down into the underpass. According to preliminary data, the spouses made a bet who will cross the street.
Comments
comments