Decomentary Simonenko lives in a beautiful town near Kiev, and is preparing to return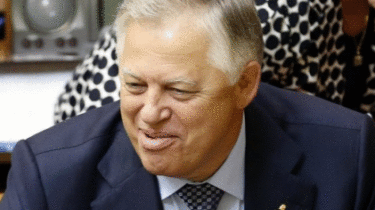 Decomentary Simonenko lives in a beautiful town near Kiev, and is preparing to return
© UNIAN
Banned Communist continues to conduct subversive activities abroad.
The former head of the banned Ukrainian Communist party Peter Simonenko after the signing of the law on decommunization settled in the elite cottage town near Kiev, and continues to conduct anti-Ukrainian activities.
As found by the journalists of the program "Groshi", "trump" place in the village of Berezovka, which was built by the owner of the network of restaurants "trump Card" Andrey ZADOROZHNY, every morning for Symonenko enters the SUV and takes him to the secret office of the Communists.
In the "Communist underground", which is located just in the middle between the circus and the zoo, are the head of the Kiev regional party Committee Mykola Kukharchuk and party member Yuriy Pastukhov. They conduct interviews with those wishing to join the party, which, despite the official ban actually engaged in any financial activity.
"Symonenko is constantly in the West. He does not only of inner work, it executes… tells in the West that actually happened in Ukraine. .. This is more than a year can not last… We are waiting to accumulate a critical mass of the people! As Lenin said, needs to Mature a critical situation!" – said Kuharchuk.
Also the underground said that the Communist party recognize the annexation of Crimea by Russia, and the volunteer battalions who are fighting in the Donbass, called bandits.
"This indiscriminate murder of the Communists. The time will come and we can call it open! In our publications we call neo-fascist regime in Ukraine", – said the head of the regional Committee.
Also the underground was assured that the war in the East of Ukraine started the criminal authorities.
"If I was more active and prepared action, and the new Russia ceded to Russia, perhaps never would," said the Communists.
"Groshi" in the Communist underground: how and where to savor life leaders of the banned red party
Pennies
Today, 10:55
Add to favourites
The program "Groshi" will tell you how to live the Communists after the ban of the party. You will see exclusive footage of the secret meeting of supporters of Stalin in the underground office. Find out why the leader of the Communist party Simonenko among the bourgeoisie lives in a luxury mansion.
Earlier, the Council officially banned the propaganda of communism and Nazism in Ukraine. According to the law, all the symbols and propaganda of Nazism, national socialism, these values, any activities of Nazi, fascist groups in Ukraine is prohibited.
Comments
comments