It's like a horror movie. The BBC showed the desperate escape of a baby iguana from a dozen snakes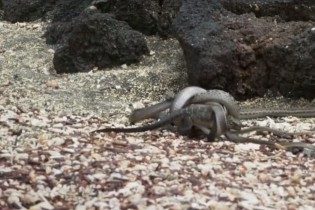 It's like a horror movie. The BBC showed the desperate escape of a baby iguana from a dozen snakes
© Facebook/Goal.com
The video was filmed on the island of Fernandina.
The program of BBC "planet Earth II" showed footage of the escape of Hatchling iguanas from a dozen of hungry snakes. Video footage led to shock thousands of spectators.
The video was filmed on the island of Fernandina. In the video, posted online, is seen as the iguana that came out of the sand, began to attack dozens of snakes. The animal desperately started to run away from predators.
Later they caught up with him and curled into a ball, but the iguana eventually managed to break out and escape.
See also: Huge poisonous snake attacked the guy when he hugged her
Video has already become viral online. Also, I made a movie with the original voice acting from the football match.
In addition, Twitter users began to actively discuss the video.
Someone compared a movie with a horror movie. Also claimed to have seen the video with bated breath.
My snake phobia made Planet Earth 2 is more of a horror film.
— Özey (@Ozey05) November 6, 2016
Actually holding my breath watching those poor baby #iguana outrunning those racer snakes….phew! #planetearth2
— Catherine (@cldwrites) November 6, 2016
We will remind, earlier in Brazil found, most likely, the world's largest Anaconda. Its length is about 10 meters, and it weighs 400 pounds.
Comments
comments