The AP claimed that he had planned to dismiss Saakashvili even in the summer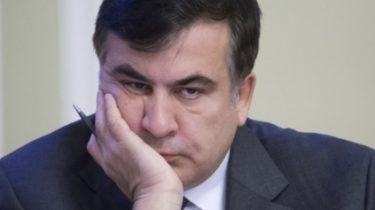 The AP claimed that he had planned to dismiss Saakashvili even in the summer
© UNIAN
But the release was postponed due to certain agreements.
The head of the Odessa regional state administration of Mikheil Saakashvili, who resigned, had planned to fire even in the summer.
This is with reference to the Administration of the President of Ukraine Petro Poroshenko, reports Gromadske.
"The resignation was prepared during the summer, but during a personal meeting Saakashvili and the President had agreed that it had been delayed for personal obligations Saakashvili to fulfill a number of requirements," reported the AP.
In particular, it was about the construction of the highway Odessa — Reni, the launch of the single window Odessa the like. "But nothing was done. Saakashvili just tapped the ball in to make it look prettier, he left, not left" — has declared the AP.
The decree about dismissal of Saakashvili from the post of head of the Odessa regional state administration will be ready on Wednesday when the President returns from a trip to Slovakia.
"Details of job dissatisfaction will also be" — summed up in the AP.
See also: Groisman take under personal control the situation in the Odessa region after the resignation of Saakashvili
We will remind that on November 7 , Saakashvili announced his resignation. He stressed that President of Ukraine Petro Poroshenko does not adhere to their promises and the presidential Administration is promoting in place of heads of district administrations of the old corrupt. Saakashvili is not going to leave the city because of "his works."
President of Ukraine Petro Poroshenko signed the resignation of the head of the Odessa region Mikheil Saakashvili, if the corresponding address will come from the Cabinet.
The Cabinet of Ministers is ready to negotiate the resignation of the Chairman of the Odessa regional state administration of Mikheil Saakashvili. Documents with a letter of resignation had not been reported to the Cabinet. When they arrive, and if Mikheil Saakashvili will not change your mind, the government is prepared to give its consent, but the decision on dismissal from the post of Chairman of regional state administration is the prerogative of the President.
Comments
comments