Brooding trump with his wife voted at the election of the President of the United States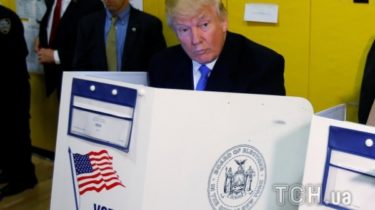 Brooding trump with his wife voted at the election of the President of the United States
Policy
Yesterday, 21:09
1 of 8

© Reuters

1 of 8

© Reuters

1 of 8

© Reuters

1 of 8

© Reuters

1 of 8

© Reuters

1 of 8

© Reuters

1 of 8

© Reuters

1 of 8

© Reuters
© Reuters

© Reuters

© Reuters

© Reuters

© Reuters

© Reuters

© Reuters

© Reuters
However, he assured that "everything is good".
The candidate in US presidents from Republican party, Donald trump voted at a polling station in new York at the election of the leader of America.
This writes CNN.
Trump arrived to the polling station with his wife Melania trump.
Before the vote, he congratulated the voters and noted that "everything is good".
See also: In the US broke down the voting machine
Today, Tuesday, November 8, launched in the United States presidential elections. The greatest attention will be confined to new York, where the headquarters of the candidates from the Republican and Democratic parties. The election campaign both politicians continued to the last. According to the latest data, which give an American newspaper, now in these races is leading Hillary Clinton.
Further policy: what to expect Ukraine after the elections in the United States
TSN. 19:30
Yesterday, 19:56
Sensationally a lot of attention in the American election focused on the Ukraine. Talk about it, both candidates for the presidency, the Ukrainian question, as the attitude to Russia is part of a wider political program and Clinton and trump.
Add to favourites
Comments
comments