Putin congratulated trump on winning the US presidential election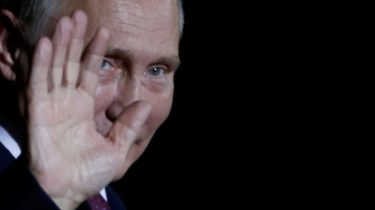 Putin congratulated trump on winning the US presidential election
© Reuters
The Russian leader has sent a new telegram to a colleague.
Russian President Vladimir Putin among the first to congratulate Donald trump on victory in presidential elections in the United States.
About this reported on the website of the Russian President.
"Vladimir Putin sent a congratulatory telegram to Donald Trump on the occasion of the victory on elections of the President of the United States of America" – referred to in the report.
See also: "God bless America". As Ukrainian politicians and experts reacted to the victory trump
Later, Putin made a more detailed withered. "We heard pre-election statements of the candidate in presidents of the USA (Donald trump – ed.) who was sent to restore relations between Russia and the United States. We understand and are aware of the fact that it will be a difficult path, given the degradation, which, unfortunately, are the relations between the US and Russia", – said Putin.
"This is, as I said, it's not our fault that Russian-American relations are in such a state. But Russia is ready and wants to restore full-fledged relations with the United States," – said the President of the Russian Federation.
Read also: the Beauty of Ukrainian women and love to layoffs. What trump said in his only interview for 1+1
In addition, the news of the victory trump is very pleased with the illegitimacy of the state Duma of the Russian Federation, deputies of which met the news with applause, writes RIA Novosti.
"Dear friends, dear colleagues, three minutes ago, Hillary Clinton conceded defeat in the election of the President of the United States, and the second trump began his speech as the elected President of the United States of America, and I congratulate all of you," — said during the meeting the Deputy on international Affairs Vyacheslav Nikonov (United Russia).
In response to the words of the deputies began to applaud.
The tears of the supporters of Clinton and joy "trapistov". The U.S. reaction to the election results
Policy
Today, 11:00
1 of 19

People's reaction to the election results
© Reuters

1 of 19

People's reaction to the election results
© Reuters

1 of 19

People's reaction to the election results
© Reuters

1 of 19

People's reaction to the election results
© Reuters

1 of 19

People's reaction to the election results
© Reuters

1 of 19

People's reaction to the election results
© Reuters

1 of 19

People's reaction to the election results
© Reuters

1 of 19

People's reaction to the election results
© Reuters

1 of 19

People's reaction to the election results
© Reuters

1 of 19

People's reaction to the election results
© Reuters

1 of 19

People's reaction to the election results
© Reuters

1 of 19

People's reaction to the election results
© Reuters

1 of 19

People's reaction to the election results
© Reuters

1 of 19

People's reaction to the election results
© Reuters

1 of 19

People's reaction to the election results
© Reuters

1 of 19

People's reaction to the election results
© Reuters

1 of 19

People's reaction to the election results
© Reuters

1 of 19

People's reaction to the election results
© Reuters

1 of 19

© Dnia
People's reaction to the election results
© Reuters

People's reaction to the election results
© Reuters

People's reaction to the election results
© Reuters

People's reaction to the election results
© Reuters

People's reaction to the election results
© Reuters

People's reaction to the election results
© Reuters

People's reaction to the election results
© Reuters

People's reaction to the election results
© Reuters

People's reaction to the election results
© Reuters

People's reaction to the election results
© Reuters

People's reaction to the election results
© Reuters

People's reaction to the election results
© Reuters

People's reaction to the election results
© Reuters

People's reaction to the election results
© Reuters

People's reaction to the election results
© Reuters

People's reaction to the election results
© Reuters

People's reaction to the election results
© Reuters

People's reaction to the election results
© Reuters

© Dnia
Comments
comments