In Kiev was renamed several streets, squares, the Boulevard and the square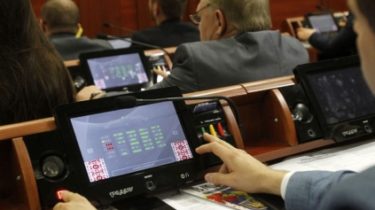 In Kiev was renamed several streets, squares, the Boulevard and the square
© The city Council
This decision was taken by Kyiv city Council to honor the memory of outstanding figures.
Today, November 10, members of city Council supported the renaming of the Boulevard of Ivan Lepse Boulevard Vaclav Havel, the streets of Sophia Perovskoy street Evgenia Miroshnichenko and street Perspective – on the street Igor Branovitskiy.
This reports the press service of the KSCA.
In addition, a nameless square on crossing of streets of Marshal Malinovsky and Dobryninskoe called Leonid Telyatnikov area, which was defended by Ukrainians during the liquidation of the Chernobyl accident.
Also the square at the intersection of Strategic highway and the prospectus of Science has the name "Square of a name of ATO volunteers", and the square at the Vladimir passage, 1 – the name "Lithuania".
Read also: Klitschko approved the renaming of the Moscow prospectus in Bandera
We will remind, in the Verkhovna Rada proposed to rename Severodonetsk to Severodoneck. The relevant draft resolution was registered on the Parliament website (registration No. 5308). A draft Decree on bringing the name of the city of Severodonetsk of the Luhansk region in accordance with the rules of Ukrainian orthography proposed by the deputies of the faction of the party "Block of Petro Poroshenko".
Comments
comments