Omeljan wants to rename the Ministry of infrastructure, and along with his post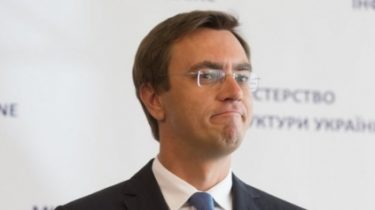 Omeljan wants to rename the Ministry of infrastructure, and along with his post
The Minister of infrastructure Vladimir Omelian© UNIAN
The need to rename the extension designed by the digital activities Department.
The Ministry of infrastructure can become the Ministry of transport and digital infrastructure.
A proposal to rename the head of Department Vladimir Omelian. He said this during yesterday's briefing in the Cabinet on the launch of the second cycle of the national contest of IT-projects EGAP Challenge.
"The Ministry of infrastructure is gradually introducing those electronic services that are familiar and effective in many countries. We look to the future. And those things we offer today will make Ukraine prosperous. On my deep belief, the Ministry of infrastructure should be called the Ministry of transport and digital infrastructure," said Omeljan, quoted by the "Centre of transport strategies".
Accordingly, subject to change and position Omelyana – Minister of transport and digital infrastructure.
It was the introduction of IT services, according to the Omelyan, promotes transparency and eliminate corruption in the government offices. The Minister stressed that thanks to his Agency over the past year has opened access to a vast array of data for citizens and business, which was previously a subject of bargaining and abuse.
Note that due to the competition of IT projects EGAP Challenge want to contribute to the introduction of new instruments of e-democracy that citizens receive quality services in collaboration with the government, had influence, and power, respectively-in process to increase its efficiency.
Earlier Omeljan in an interview to TSN said that the process of adaptation of the head of "Ukrzaliznytsya" has been much delayed.
Ministerial inspection of Ukrainian pit: what he thinks about the condition of roads Vladimir Omelian
TSN. 19:30
October 24, 21:30
Add to favourites
After the appointment of a new head of Ukravtodor TSN decided to inspect the roads with the Minister of infrastructure. Pits, trucks, the lack of a ring road in Kiev – it turns out that Vladimir Omelian not much can be done.
Comments
comments