Lukashenka claimed that Poroshenko apologized for the incident with the Belarusian plane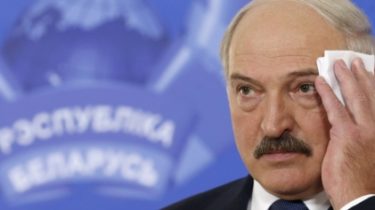 Lukashenka claimed that Poroshenko apologized for the incident with the Belarusian plane
© Reuters
Relevant services in the near future supposedly will hold consultations on cooperation in the field of security.
The President of Ukraine Petro Poroshenko allegedly apologized for the incident with civil aircraft of the airline "Belavia" and informed the President of Belarus Alexander Lukashenkothat the perpetrators punished.
This was discussed during a telephone conversation of President of Belarus Alexander Lukashenko and President of Ukraine Petro Poroshenko.
The heads of state allegedly agreed that the relevant service in the near future will hold consultations on cooperation in the field of security to prevent such incidents in the future.
The presidents also discussed the organization of work for the peaceful resolution of the conflict in Ukraine. Belarus is ready to continue to do everything for Ukraine to have peace.
See also: Belarusian newspaper published requirements of the Ukrainian dispatchers to return the plane "Belavia" in Kiev
We will remind that earlier it was reported that epised with the return of the aircraft of "Belavia" flight Kiev – Minsk turns into international incident. Belarus on the official level, has demanded an apology and monetary compensation from the Ukraine.
Instructed to return Boeing gave the Ukrainian security forces who have received information about the possible export of one of the passengers of information that could threaten national security. The suspect was removed from the plane and searched. The Board departed to Minsk after refueling, and the man in some hours militiamen were released – he got to Minsk by another airliner.
A press-the Secretary of SBU Elena Gitlyanskaya argues that the actions of the secret service was standard for such cases in the world practice. Belarusians angered by this, and the alleged threat to raise in the sky fighter jets in case of failure of civil aircraft to return to Kiev. In Ukraine, an accusation rejected. "Very strange is the statement that on civil aircraft can be flown fighters. Negotiations led Manager "UkSATSE." It is that human factor, it is very doubtful, but I will say it again – I don't even want to believe this", – Gitlyanskaya declared. In "UkSATSE" comments on a situation have not yet provided.
The incident occurred because of Armen Martirosyan , the Armenian citizen who lives in Moscow and works in Pro-Kremlin media and constantly throws mud Ukraine. The Russian edition of call him a journalist, he considers himself a political strategist. The man said that he was looking for some information, which he took out on the electronic drive. "Everything is fine," he said. What interested the security service and if anything was seized, the secret service is not konkretisiert. Silence explain the mystery of the investigation.
International scandal: Ukraine has threatened to raise against the Belarusian fighter plane
TSN. 19:30
22 Oct, 19:50
Add to favourites
So say the official Minsk. The requirement of our SBU managers forcibly returned to Kiev the Belarusian civil aircraft. Because of one passenger who allegedly threatened the national security of Ukraine.
Comments
comments