Saakashvili abruptly "walked" on Poroshenko and revealed details of secret negotiations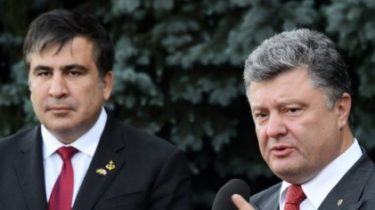 Saakashvili abruptly "walked" on Poroshenko and revealed details of secret negotiations
© UNIAN
The former head of the Odessa regional state administration claims that Poroshenko offered him the post of Prime Minister.
The former Chairman of the Odessa regional state administration and the former President of Georgia Mikheil Saakashvili says that Ukraine's President Petro Poroshenko behind closed doors several times offered him to become Prime Minister and lead the presidential party did not agree. Now, after the dismissal of Saakashvili stated that he will speak with Poroshenko only on reset of power in Ukraine – early parliamentary elections.
About this politician said today, 11 November, on a press-conferences in Kiev, transfers "Interfax-Ukraine".
"The President of Ukraine repeatedly over the past year while I worked (Chairman of the Odessa regional state administration), since last summer, offered me the post of Prime Minister of Ukraine, and has asked me to lead the party "Solidarity". I not only refused to lead the party, but also did not go on the lists of his party in the Odessa region. It was my conscious decision and it was connected with the fact that all these parties, particularly the government and the President, completely clogged," said Saakashvili.
He said that Poroshenko had the chance to use it in the correct order. However, according to Saakashvili, his dragged into intrigue, "their oligarchic games" campaigning in Chernigov, he "made to your shame." Also complains that has become a kind of tool for the resignation of Arseniy Yatsenyuk from the post of Prime Minister. Although the final result – dismissal – he thinks is right.
"He had a chance to use me for real reform in this country. But it turned out that the reform and its welfare somehow contradict each other. And I'm here because I want to have regardless of his will, to use my experience to real reform and change in Ukraine, for the benefit of Ukrainian citizens. And now he's not the boss of me" – said Saakashvili.
See also: Saakashvili has not fulfilled most of its promises – experts
Poroshenko plans to meet only when "the legal question of the change of power in Ukraine."
"I will come to him for treatments of regime change and appointment of new elections. I will only come to Poroshenko when it is ready to appoint new elections to the Verkhovna Rada. Before any meeting I have with him will not. Because, with all due respect to the institution of the presidency, with all that, I personally have him any bad feelings… moreover, there is a warm feeling… But I'm at this stage with the President, unlike many of the opposition, who from the back porch of the President's Administration regularly ran there, and for me there was the office, and I know way ordered. I have a conversation with the people of Ukraine, ordinary people who suffer, in particular, and its policy", – said Saakashvili.
The current situation in Ukraine, Saakashvili compares with Georgia 2001.
"I feel now in Ukraine, as in Georgia in 2001. When I resigned from the government of Shevardnadze, I called for early elections, we have achieved then early presidential elections and change of power", – the politician noted.
Saakashvili stressed that he is not going to return to the political and government activities in Georgia.
"People can't be on two fronts. Of course, I will support my colleagues in Georgia, but I clearly stated that it would not have ended elections in Georgia, I there will not go back to work," he said.
Saakashvili also said that he has only the citizenship of Ukraine. And he added that he knows many politicians, who, in addition to Ukrainian, have Greek, Hungarian, Panamanian, Israeli, Swiss and other nationality.
At a press conference he also announced the creation of his political party.
Meanwhile, the SBU announced plans to destabilize the situation in Ukraine, including through the holding of early parliamentary elections.
Comments
comments