In Kiev banal robbery turned into a large-scale accident with the shooting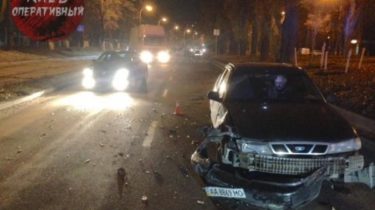 In Kiev banal robbery turned into a large-scale accident with the shooting
Kiev
Today, 13:19
1 of 6

© Facebook/Kiev Operational

1 of 6

© Facebook/Kiev Operational

1 of 6

© Facebook/Kiev Operational

1 of 6

© Facebook/Kiev Operational

1 of 6

© Facebook/Kiev Operational

1 of 6

© Facebook/Kiev Operational
© Facebook/Kiev Operational

© Facebook/Kiev Operational

© Facebook/Kiev Operational

© Facebook/Kiev Operational

© Facebook/Kiev Operational

© Facebook/Kiev Operational
Police released details of the accident with the chase, which occurred yesterday.
In Kiev on Friday, 11 November, on the Boulevard of Vaclav Havel (former Ivana Lepse) in the evening the suspects in the burglary staged a large-scale accident with the races with the chase and shooting.
About it reported in Department of communication of the police of Kiev region.
According to law enforcement officers, suspects, fleeing from persecution on the Volkswagen Passat with Polish numbers, ran over the leg of one of the policemen and opened fire on the cops who used the traumatic service weapon in response.
See photos: luck drunk girl on Mercedes rammed two cars and flew to the store
After that, the attackers flew into the oncoming lane and rammed three cars: Daewoo Nexia, Skoda Octavia, Hyundai Santa Fe, and then crashed into a curb and was unable to continue driving. Men took to their heels, but the driver managed to detain.
"He was a citizen of Georgia, who during the search seized a homemade firearm, he was sent to examination", – added in Department.
As noted, several attackers managed to escape, now supporters of the detained are wanted.
Separately it is reported that the policeman who fell under the wheels of the car, was seriously injured.
Recall the night in Lviv the man was attacked with a knife on the man, and then he fell under the wheels. The driver managed to brake, when to it under wheels jumped a man.
Comments
comments