Reporters learned who filled out the documents of the "black cash" regionals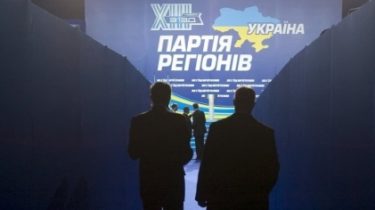 Reporters learned who filled out the documents of the "black cash" regionals
© UNIAN
According to media reports, he had already left the country.
The information in the documents,"black accounting" of the Party of regions made Eugene Kalyuzhny – the brother ex-the Deputy of the Verkhovna Rada Vitaliy Kalyuzhny.
This writes DT.UA citing its own sources.
According to journalists, the likely defendant in the case "black accounting" left Ukraine.
"Several "donors" party funds PR confirmed DT.UA that information about payments made in b/W. Eugene Kalyuzhny, the brother of former MP from the Opposition bloc of Vitaliy Kalyuzhny. But at the moment citizens who own hand filled at least part of the document "black accounting", has left the country", – stated in the message.
See also: SAP remanded the case "black accounting" of Party of regions in NABOO for revision
It is noted that the editors of the publication sent to NABOO and SAP queries about the fate Kalyuzhny, likely interrogation and the responsibility of security forces for what the citizen ran away from Ukraine. And got in response that Kalyuzhny has still not declared suspicion in one of the criminal proceedings.
We will remind, people's Deputy Serhiy Leshchenko on 31 may published a part of "black accounting" ETC. Upon review of these documents, the Deputy reported that during the first half of 2012 the Party of regions spent about $ 66 million In particular, in documents found confirmation of financing of the Maidan.
And most sensational discovery was the presence in the book of regionals Paul Manafort, former head of the campaign of newly elected US President Donald trump. After the scandal trump dismissed the consultant from the leadership of his staff. Later he resigned.
On 29 September, the interior Ministry reported several discovered of sheets of originals "black accounting" Party of Regions". Avakov promised to send them to NABOO.
In turn, October 6 in the NAB questioned Avakov. The reason for the questioning began page accounting PR.
The case of "black accounting" of the Party of regions continues to investigate the anti-corruption Prosecutor's office
TSN. Wounds
14 Jun, 08:33
Add to favourites
The day before on interrogation to investigators called the leadership of the Central election Commission Mikhail Okhendovsky and his two deputies. CEC appears in the so-called granary books regionals. Mentioned and the name of the stations. All three deny any involvement in receiving money from the Party of regions. Okhendovsky, among other things, States that the acronym CEC does not necessarily mean the Central election Commission.
Comments
comments