The foreign Ministers of the Normandy format to discuss a road map to the end of November – media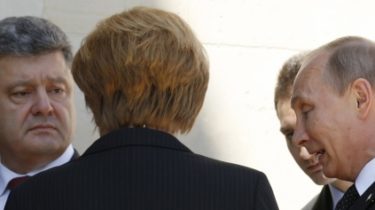 The foreign Ministers of the Normandy format to discuss a road map to the end of November – media
© Reuters
In diplomatic circles say that a single draft document should not wait.
Representatives of the Norman Quartet can reach working draft "road map" regarding the Donbas to the end of November 2017.
About it reports "Interfax-Ukraine" citing a source in diplomatic circles.
The interlocutor of Agency has reminded that the representatives of Ukraine, Russia, France and Germany are actively working on the document, which is instructed to develop the leaders of the Normandy format.
Read also: NATO Secretary General welcomed the decision of the "channel four" on the creation of a road map of Minsk
"In late November, foreign Minister "channel four" will hold a meeting and discuss this working draft will announce their proposals," he said.
However, the source expressed the opinion that the parties are unlikely to agree on a single draft document, there is a lot of controversy and contradictions.
"The Ukrainian side clearly marked 5 red lines that were previously announced and which Kiev will insist in these negotiations", – said the interlocutor of journalists.
Recall, October 19, the leaders of the "Normandy Quartet" (Ukraine, Germany, France and Russia) adopted French and German proposals on the basis of the"road map" implementation of the Minsk agreements.
"The Ukrainian proposal was initially supported by our German and French partners and today the German and French proposals on the basis of the road map were approved by the "Normandy format" – Poroshenko said at a press conference on the results of negotiations.
Comments
comments